Rediscovering the Genius of Bheki Mseleku: Conversations and Performances
When:
Friday, 14 September 2018 - Friday, 14 September 2018
Where:
Braamfontein Campus East
Wits Theatre
Start time:
19:00
Enquiries:

(011) 717 1374

Cost:
R80 for Wits Students and Staff Booking through Webtickets (or at the door)
Wits Theatre in association with Pegs Music Project presents Rediscovering the Genius of Bheki Mseleku, facilitated by Dr Lindelwa Dalamba.
Today more than ever, in South Africa and around the world, the legacy of Bheki Mseleku's musical work keeps affecting and inspiring many. It has been a constant feature of the South African Jazz scene since he left us physically. Many musicians, young and less young, continue to interrogate and research his inspiring art academically and otherwise.
On Friday 14 September 2018, the Wits Theatre will be the hosting venue for a gathering aimed at Rediscovering the Genius of Bheki Mseleku through conversation and performances. Facilitated by Dr Lindelwa Dalamba, lecturer at the Wits School of Arts and Jazz Historian, the evening will be divided in two parts.-
From 7 pm, a discussion will see a panel of academics, musicians and journalists reflect on the art and life of the legendary multi instrumentalist. They are Eugene Skeef, visiting artist, curator, percussionist, arts activist, friend and life companion of Bheki Mseleku, Andre Petersen, pianist composer and Senior Lecturer at the Wits School of Arts, Nduduzo Makhathini, pianist composer and Head of Music department at Fort Hare University, Senior Lecturer Salim Washington, saxophonist flutist and composer, Jazz studies Lecturer at University of Kwazulu Natal and Gwen Ansell, Jazz journalist, historian and writer. The audience will be invited to contribute during the discussion.
From 9.15 pm there will be performances by Andre Petersen and his quartet featuring Chantal Willie on bass, Ayanda Sikade on drums and Sisonke Xonti on saxophone,. This will be followed by a performance by Eugene Skeef, Nduduzo Makhathini and Salim Washington, and followed by a performance of Nduduzo Makhathini and his quintet featuring Salim Washington on tenor saxophone and flute, Siyanda Zulu on trumpetAyanda Sikade on drums, Thuto Motsemme on bass. Both bands will perform the music of Bheki Mseleku.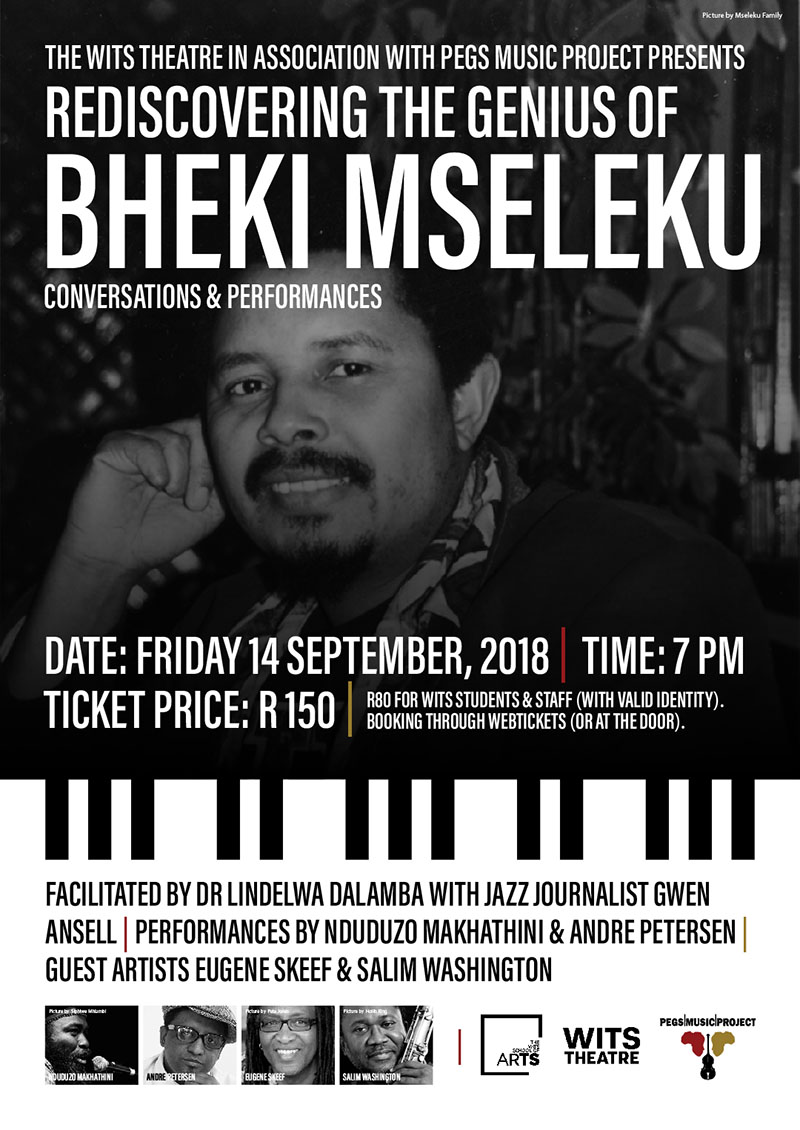 Add event to calendar