National Science Week
When:
Monday, 07 August 2017 - Friday, 11 August 2017
Where:
Braamfontein Campus East
Amic Deck and Wits Theatre
Start time:
9:00
Enquiries:

Dr Ian Mckay at 011-717-6667
Wits will again participate in National Science Week, a week-long annual nationwide celebration of science, technology, mathematics and innovation.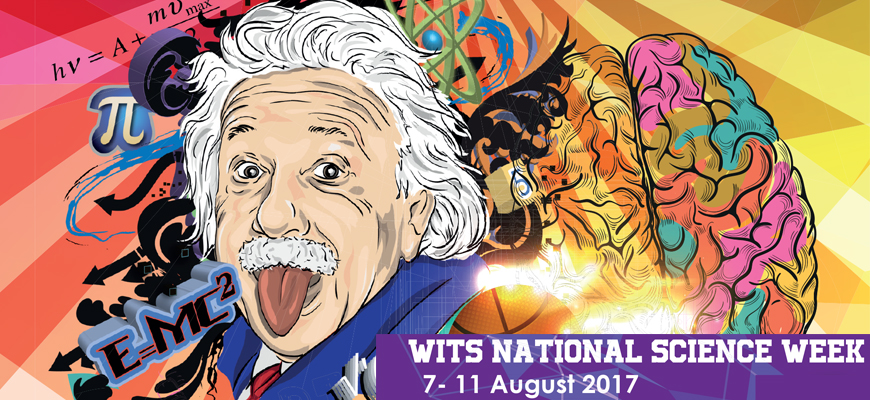 This year's national theme is "Advancing Science Tourism" and has been chosen because the United Nations declared 2017 as the "International Year of Sustainable Tourism for Development". In South Africa, science tourism is developing fast and being fueled even further by new discoveries being made annually, such as those made by Wits palaeoscientists in the Cradle of Humankind World Heritage Site near Johannesburg.
This year Wits will again target university students and school learners as the key stakeholders in NSW. Academics and student societies play a huge role in promoting awareness of and engagement in issues surrounding science, technology, engineering and mathematics (STEM). They can also promote key STEM subjects to school students, encouraging them to become the drivers of future innovation.
Why National Science Week?
Internationally, the capacity that a country has for Science, Technology and Innovation (STI) is considered a critical factor in contributing to its prosperity and a sustainable environment. It is therefore important that society in general, values and appreciates the role that science and technology have to play in its present and future well-being.
Developed by the DST, the National Science Week programme in South Africa is a week-long annual nationwide celebration of science, technology, mathematics and innovation.
Wits National Science Week Programme (7- 11 August 2017)
An online Wits Science Survey and Competition where Wits students have their say about science STI related issues from 31 July - 21 August.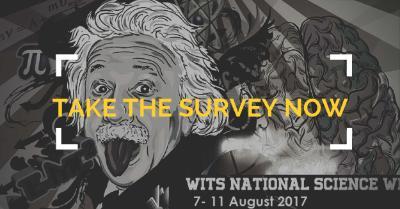 Special tours of the Science and Engineering laboratories for high school learners who will interact with postgraduate students studying science and engineering, watch them perform experiments, and ask them questions about what it is like to study in these disciplines, what subjects they need to take at school and prospective career opportunities in these fields.
Daily tours
Time: 08:00 – 09:00 (meet); 09:00 – 11:00 (tours)
Venue: Start from the Amic Deck parking lot (by the Origins Centre), Braamfontein Campus West
A "Wits Science Slam Competition" where Wits postgraduate science, engineering and health sciences students present their research in 10 minutes to the visiting learners. School learners will be asked to vote for the best presentation. Each day a finalist will be chosen and at the end of the week the best presenters have a "slam off"!
Daily
Time: 11:30 – 13:00
Venue: Wits Theatre, Braamfontein Campus East
Prizes (laptops and tablets) are up for grabs for participants and voters in the science slam and online competition Add event to calendar