Events
Youth, Elections and Democracy
When:
Thursday, 29 August 2019 - Thursday, 29 August 2019
Where:
Braamfontein Campus West
NCB3, New Commerce Building, Braamfontein Campus West
Start time:
13:30
Enquiries:
Dialogue on youth participation
The South African Human Rights Commission (SAHRC) and the Oliver & Adelaide Tambo Foundation (Tambo Foundation) will co-host a dialogue focusing on youth participation in the 2019 National and Provincial Elections.
Following its elections monitoring activities, the SAHRC is concerned about the low number of young people who registered to vote in the country's recent general elections. The dialogue will therefore focus on youth participation in the country's political space and the challenges they are confronted with when doing so, the importance of young people as human rights and democracy defenders, and what would be required to improve youth voter participation in future elections.
Through the dialogue, the SAHRC and the Tambo foundation aim to highlight the inextricable link between the right to vote and the rights to freedom of assembly, expression and association as core to sustaining the foundation of the country's constitutional democracy.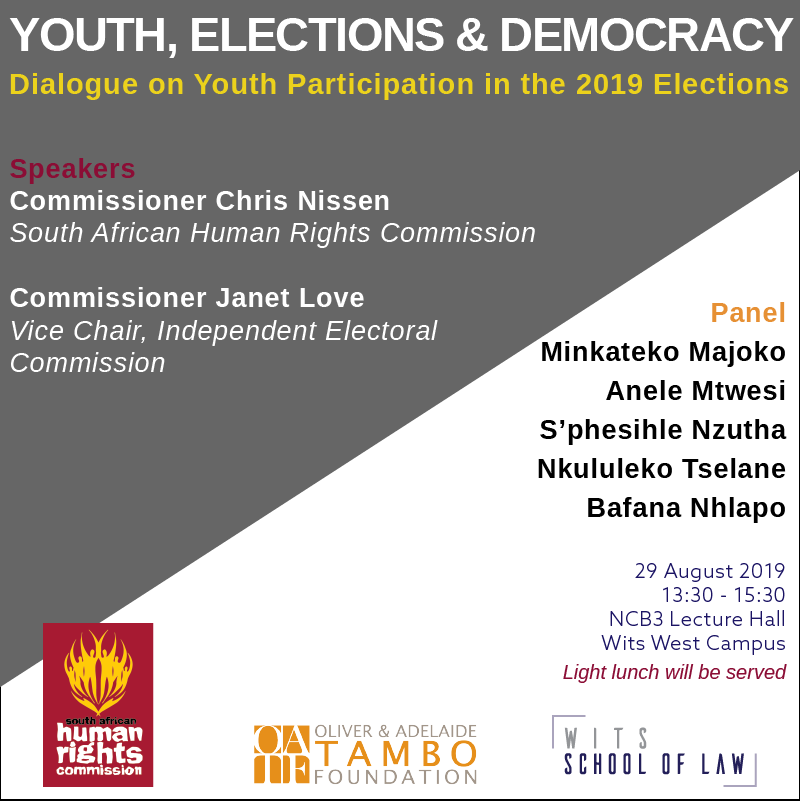 Add event to calendar
Share
Tweet