A lifetime of construction
-
Veteran Witsie Robert Schaffner (BSc Eng 1951) retired at 93 but still goes in to his office at Centauri Design once a week at the age of 97.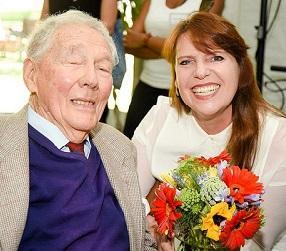 He was born in Heidelberg and went to school in Benoni when his civil servant father was transferred there. At school he met Jean Corris (BA 1943), then aged 15, who decided right away that they would marry. And so they did, eventually.
But first came the Second World War: Schaffner served in the Imperial Light Horse and worked for Head Wrightson (the UK firm that built the Pluto nuclear reactor), at their Benoni Transvaal Works. At the age of 22 he was sent to establish a rubber factory in northern Zululand, using equipment salvaged from an abandoned 1912 project on the Pongola River.
After the war, he enrolled at Wits to study civil engineering. He and Jean got engaged in his first year, so his social life was not concentrated on campus, but he "thoroughly enjoyed" his time as a student and excelled at his work. He graduated with distinction and won the WH Gresty and Roberts Construction prizes in civil engineering.
The couple were married the same week he graduated, by which time he was working on a power station project out of town. He continued his Wits connection for many years as an external examiner for concrete work.
He joined Kanthack, the civil engineering firm, and worked on projects like the petrol pipeline from Durban to Johannesburg, the pumphouse for Koeberg nuclear power station, the design and construction of the Jupiter cement works structure for PPC, aspects of South Deep Mine and Kafue power station. At the age of 80 he retired from Kanthack and joined Hatch, the Canadian firm.
Robert and Jean's two sons went to King Edward VII School. James (BSc Eng 1980) is a civil engineer in Toronto and John (BA 1979, BA Hons 1980) studied Russian and worked in army intelligence. Jean taught at King Edward VII Primary School. She died several years ago.
Joy Campkin-Smith, the Wits architecture lecturer who is well known for her design work on KES school facilities, is one of the friends who help Robert get about and keep busy.
It's "an interesting and happy life", he says.