Veteran alumni
-
Harold "Smoky" Simon and Mike Tetley share their life stories
The sky was no limit
In this video, Harold "Smoky" Simon (BCom 1941), aged 97, talks to Dr Les Glassman (BSc 1979; BDS 1984), the Wits alumni representative in Israel. His life has been a journey from a Free State village via Wits and the air force in World War II to Israel …
Hands that see
Mike Tetley (BSc Eng 1952), aged 87, still practises as a physiotherapist in the UK. After qualifying at Wits as a civil engineer (as his father did too in the early 1920s), he worked for a few months on the stormwater systems for Mombasa and Kampala. He was then conscripted to serve in the King's African Rifles during the Mau Mau Uprising in Kenya.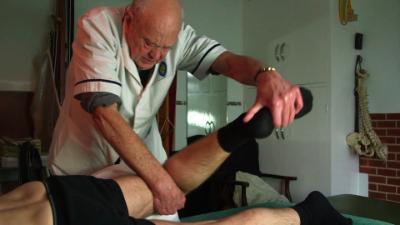 He was shot and blinded, but went on to train as a physiotherapist. Like civil engineering, physiotherapy is concerned with structure, he says.
Asked about the attribute he has found most valuable in his life, he says it is curiosity.
One of his interests is cranial moulding: the practice of reshaping children's heads, for cultural or medical reasons. He is also interested in palaeontology, and attended Professor Lee Berger's talk for alumni in London last year.
At Wits, Tetley was in Dalrymple House, played hockey, enjoyed dances and quizzes, and remembers students getting together at the swimming pool amphitheatre. He met Helen Keller when she was at Wits in 1951 to receive an honorary LLD and was impressed by how quickly she could communicate with her sign language interpreter. He also recalls making stilts for RAG one year and walking over a traffic light.
You can watch a documentary about him here.