Molecular biology on the move
-
Young researcher recognised for work on agricultural pests
Dr Tiisetso Lephoto (BSc 2010, BSc Hons 2011, MSc 2013, PhD 2016) is a postdoctoral fellow in the School of Molecular and Cell Biology, and was one of Wits' top students. She has won several awards for her research work – most recently Best Young Researcher from the Gauteng Department of Agriculture and Rural Development's Biotech Fundi and Innovation Hub. She is also on the 2017 list of 200 top young South Africans published by the Mail & Guardian.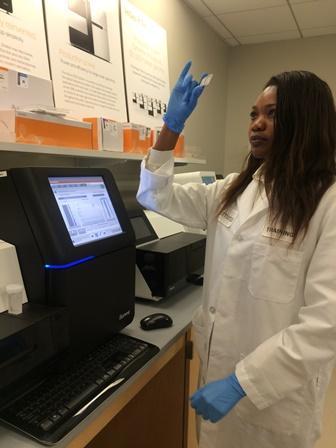 Dr Lephoto is interested in the molecular genetics and biochemical mechanisms underlying the relationship between insect hosts, bacteria and nematodes. In simple terms, she is looking for natural ways to control pests in agriculture.
But it's not all about parasitic worms. She loves to take young people with her as she progresses. Dr Lephoto founded a wellness and fitness project called Yes We Are Moving, tutors high school learners, and gives motivational talks through an organisation called Katleho Pele Education.
"It's very fulfilling to share knowledge, to help someone, and then see them succeed," she said.