Keeping Witsies posted
-
Dentist, stamp collector and videographer Les Glassman talks about representing Wits in Israel
Volunteering as a Wits alumni convenor opens doors, says Les Glassman (BSc 1979, BDS 1984), our representative in Israel. But that's not why he does it. "I really feel it is such an honour and privilege to represent Wits. And I've met amazing people."
Les organises events for Wits alumni in Israel with the support of his wife Lucy (BA 1985, PDE 1986), local organisations and networks like Telfed, and the Alumni Relations office in Johannesburg. Together, they keep contact details updated, relationships strong and information flowing both ways. Les doesn't have to handle any financial administration.
Being a convenor also gives him the opportunity to do something he enjoys: interviewing interesting people and recording their life stories on video. (You can watch them on YouTube.)
The fact that people work on Sundays in Israel makes it harder to organise events, but Witsies are keen to make the effort to attend, he says.
Most of the expatriates in Israel enjoy being connected with each other and with South Africa and their alma mater. They remain informed and engaged, and Les says most of them have only positive things to say.
"People feel honoured to have had the opportunity to get the education they got at Wits," he says. "They had to work hard; qualifying at Wits didn't involve compromises." And these graduates have made their mark in Israel, where Wits has a good name.
A highlight for Les as convenor was helping to publicise and record the 60th reunion of the Class of 1955 medical students. About 10 alumni in their mid-80s got together in 2015, to celebrate a lifetime of connection, mutual assistance and achievement at the top of their fields. "They didn't have easy lives," says Les. "But they were so full of life and positive, and close. It was magnificent; a privilege to be there. I made a video which meant their families all over the world could be part of the event too."
Other events Les has organised in Israel include gatherings to honour Nelson Mandela, with participants such as former Rand Daily Mail journalist Benjamin Pogrund, Liliesleaf Trust founder Nicholas Wolpe, former South African Jewish Board of Deputies president Marlene Bethlehem, art gallerist Natalie Knight and the Israeli and South African ambassadors.
Meeting and filming Witsies like accountant-turned-pilot Harold "Smoky" Simon, aged 97, and radiologist Professor Joshua Levy, aged 94, was an honour, says Les. Prof Levy's mother, Amelia Hersch, was one of the first students at Wits, in 1922, and got the first of her Wits degrees in 1927. She was a translator of Yiddish, Hebrew and German poetry and an editor of Common Sense and Jewish Affairs.
Most people are interested in other cultures, says Les. One avenue for exploring this interest and making friends is stamp collecting, which has been his hobby since he was six years old. He now represents Israel as Commissioner at international stamp exhibitions, and has recently been to Indonesia for a stamp show where the theme was "Peace Through Stamps".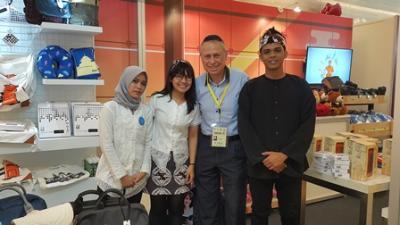 Les and Lucy have been living in Israel since 1994, where they have family roots, but regularly visit South Africa, where other family and friends remain. "Once a South African, always a South African," he says.
Getting into Wits dental school (in 1978) and passing every year took very hard work, says Les. But the students got on well together and helped each other. "It was a unique place. The professors were fair and gave us a high standard of education. We had lectures from world authorities." A highlight was a two-week trip to a remote area of the Transkei in his fourth year, to provide free treatment to people who didn't have access to dentistry. He remembers a dental chair falling out of the van on the bad roads. The students also served at clinics in Soweto and Riverlea. Fun times included musical events and interesting talks. Les and Lucy got engaged in his final year and his marks actually improved! "I'm so grateful for the time I spent there," he says.
Witsies in Israel can look forward to a talk later in this year by multiple Wits graduate and extraordinary linguist Nathi Gamedze, originally from Swaziland, now a rabbi.
To contact Les Glassman, phone +972 525522438 or email Lesglassman@gmail.com.
If you'd like to be a Wits alumni convenor in your region, please contact Purvi Purohit on +27 11 717 1093 or purvi.purohit@wits.ac.za.