From invisible to invincible
-
Guest speaker Frank Magwegwe talked about life's obstacles when he addressed an alumni networking event on 7 September.
It's often the little things that connect people: Hall 29 in June, for example. The cold, and the knowledge that you have just failed an exam. When Frank Magwegwe spoke of this memory in his talk to Wits alumni and students in September, there was a wry collective smile.
That exam was Accounting 101 in 1994. It was the year Magwegwe left his life on the streets of Johannesburg and started his student journey towards two Wits degrees, Harvard and a career in financial services where he was responsible for R180-billion of other people's money. He now has his own financial advisory business and is working towards a doctorate.
One of the best financial decisions he ever made: saving R50 of what he earned in 1993 as a street vendor's helper, and using it to buy his own stock of fruit and vegetables to sell.
Yet in response to a question from the audience about the tough times when starting a business, he said: don't even think about money. Think about your impact and purpose in life. Ask yourself why you are here.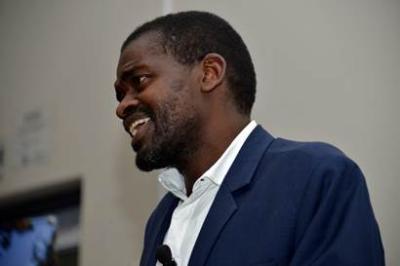 That focus is what has taken Magwegwe "from invisible to invincible". That, and the belief that people always have choices.
He chose not to take a dead-end farm job in the Eastern Cape. After being fired from his job as barman at a hotel, he chose to use his last few rands to buy a train ticket as far as it would take him towards Johannesburg. Once in Joburg, he spent months living in the train station and on the streets.
"Many people make assumptions and judge you when you are homeless," he said. "You become invisible to the world. You can easily fall into despair." But he chose not to accept this fate.
One day, in the Johannesburg public library's news room, someone (a Mrs Zimmerman) took the trouble to ask him about himself. On hearing that he had obtained a B for matric maths, she encouraged him to apply to study at Wits. The Dean of Science, Professor Robin Crewe, steered him in the direction of a BSc in maths.
Even then it wasn't an easy path. For the first few months, he was still running his fruit and vegetable business and didn't have a place in res.
"But every person faces obstacles," he said. "Obstacles teach us about ourselves. Ask yourself: can I think about it differently?"
Read more about his story here.