Ernestmen's 50 years of excellence
-
Ernest Oppenheimer Hall celebrates its golden jubilee this year
EOH men's residence prides itself on producing top students and future leaders, by sharing knowledge, working hard and pushing boundaries. Of course, its traditions and reputation include excellent socials and sporting prowess too!
The Parktown residence was built to replace Cottesloe Residence, which housed ex-servicemen after World War II. It is now home to about 400 medical and engineering students.
A function on 22 April brought together past chairpersons of the House Committee to share anecdotes of their time at EOH.
See photos of the event here and a highlights video prepared by first-year medical student and EOH resident Kelechi Nwachukwu.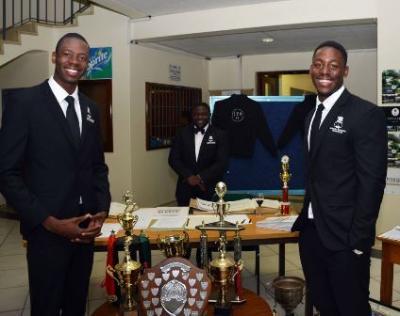 EOH held a Health Awareness and Sports Day on 12 August as part of its 50th anniversary celebrations, and a well-attended formal dinner in September. See photos here.
An EOH fund has been established for the upkeep and development of the residence and to support students in need. To donate online, please visit http://www.wits.ac.za/givingtowits/ and click on Give to Wits. This will take you to a Donate page. You can then specify your support for EOH.
Dr Brendon Mathews, a former EOH chairperson, has compiled a book about EOH which is available at a cost of R150 (excluding postage). Please contact Nazime.randera@wits.ac.za for more information.
PDF: EOH book
If you were an EOH resident, please keep your contact details up to date by emailing alumni@wits.ac.za.
Past House Committee chairpersons who attended the April function were:
1969 David Hodgson

1984 Dr G Zinn

1986/87 Dr P Zinn

1991 Nick Kohler

1993 Peter Tshisevhe

1999 Thabiso Langa

2002 Ranti Mothapo

2003 Antonio da Gama Teixeira

2004 Toto Fiduli

2009/10 T Sikhwivhilu

2011 Bongani Machabe

2012 Dr Mpazi Siwale

2014 Dr Brendon Matthews

2015 Nkosinathi Maluleke

2016 Odwa Abraham
The MC for the event was from the 2008 EOH house committee, Litha Hermanus. The following former wardens attended: Professor Adesola Ilemobade, Professor Kennedy Erlwanger and Amos Hadebe.
1988 chairperson Dave Hughson sent his best wishes from Australia, saying:
"EOH was my first home in South Africa, after growing up in Zimbabwe, so I have some very fond memories of my time there. A number of friendships formed at that time have now endured over the last 30 years. On top of that, the wider network has always been invaluable. The opportunity to live in halls of residence should not be undervalued. It makes the university experience richer in so many ways that a day student simply cannot get. My education at Wits has stood me in good stead over a 30 year career across the globe, playing with the best of the best and winning. EOH is where I was when I learnt those skills."
Share your EOH memories here!

Keep in touch via social media:

Facebook: EOH Alumni Group

Twitter: @eoh_res

Blog: eohres.tumblr.com

YouTube: youtube.com/c/eohtv

Instagram: @eoh_res
Calling all Raiders
Men's Res (College House and Dalrymple House) is celebrating its 95th anniversary this year.