A place in the sun
-
Student friendship matures into business team
Electrical engineering graduate and MBA student Tshibvumo Sikhwivhilu (BSc Eng 2013) has started a company called Lamo Solar, which aims to install solar power systems at 1000 rural and underprivileged schools by 2020. He is also a director of Thusanani Foundation, which supports students financially.
The co-founder of Lamo Solar is Elmond Khoza (BSc Eng 2013) and the business development head is Danisa Nkuna (BSc Eng 2010). Chief technology officer is Didier Iradukunda (BSc Eng 2013). Another Witsie on board is Tawanda Murimiwa. The business is based at Riversands Incubation Hub, run by Century Property Developments CEO Mark Corbett (BSc Build 1998).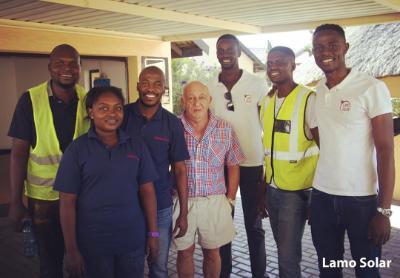 What makes this team work? "A good friendship and understanding nurtured from our days as students, and a level of comfort in taking calculated risks," says Elmond. "One thing about the Lamo Solar team is the passion to have a greater impact on society, and this is shared by each one of us."
Lamo Solar recently won Eskom Development Foundation's annual business investment competition in the construction and engineering category. The competition rewards small businesses that are making a difference in fighting poverty and unemployment.
Lamo Solar will be launching a training programme in partnership with Thusanani Foundation in August. The pilot programme will be tailored to train young women from the Diepsloot township in the design, installation, maintenance and operation of solar PV systems for residential, industrial and commercial clients. It aims to train 50 students by year end.
Elmond has been quoted as saying: "We had to distinguish ourselves, and we decided instead of designing solutions for electricians to install, we would ensure that at least one engineer is part of each installation team. This at first met criticism that we were wasting valuable skills. But it is proving to be our biggest strength because we are able to evaluate risks on site and deal with problems quicker and complete quality installations on time."
Starting on campus
The team were entrepreneurial as students. Elmond ran a tuckshop at Ernest Oppenheimer Hall of Residence in 2010, and prior to that Elmond and Tshibvumo ran a clothing, furniture and events company, Harambe. "We sold clothes and ottomans to fellow students and also organised events for clubs, societies and organisations at the university."
Elmond continues: "We believe that business education should be introduced to supplement the technical education at all universities. Besides our early endeavours with Harambe as students, we still needed to hone some critical skills in order to guide our growth. When we knew the path we wanted to take after our engineering qualifications, we sent Tshibvumo to do an MBA at Wits Business School, while I was involved in Green Entrepreneurial Education offered by the Gordon Institute of Business Science, in a programme sponsored by JPMorgan."
Tshibvumo has received an international entrepreneurial accolade from the Association of MBAs and Elmond was named the 2017 Bizcre8 Entrepreneur of the Year.
Realistic growth
Is there a danger of being victims of their own success, by growing too fast? "There hasn't been too much pressure," Elmond says. "We actually believe that we are not yet operating at our full potential. This is because we have created systems that have allowed the two co-founders to work on the business, rather than working in the business. This has allowed for a realistic view of what we can handle and what would drown us.
"Mentorship is also very important, because we learn from those who have walked the path before us and let their experiences correctly inform our decisions."
Incubators are important to start-ups too. They support businesses during their early days of operation, ensuring that all the information and services needed by a business are easily accessible. "Riversands Incubation Hub not only offers us state-of-the-art subsidised facilities to operate from, it also offers coaching sessions in sales, marketing, human resources, finance, etc, which we can attend whenever we need to polish a particular skill."
Lamo Solar is influenced by the Lean Startup business model, which it encountered when participating in the Sophiatown Bizcre8 programme.
Learn from mistakes
"There isn't much we could have done differently, except that we feel we could have started much earlier," says Elmond. "We knew earlier what kind of impact we wanted to have by supplying quality electricity to the energy-starved continent of Africa, but we only made our first step two years later.
"We could have started earlier and that's what every entrepreneur should do: start early and look to fail fast so that you can refine your business model."