A job for dogs
-
Expert animal trainer Shannon McKay (BSc Hons 2011, MSc 2014) trained the dogs that were used in Wits research into puffadders' chemical camouflage.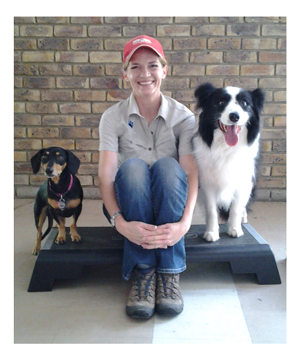 The dogs were required to match cotton cloths embedded with scent – they got no visual clues. This method had not been used before to test an idea about how scent works, nor had any single test previously included the scents of various species.
Shannon took the unusual step of opening the research up to experienced "dog people" with their own dogs, of any breed. She didn't want to acquire dogs especially for the work, concerned about their future. Twelve dogs completed the training and Shannon found that they caught on fast, attending just one session a week. In fact it is best to space out the training sessions, she says, because it builds drive and allows the dogs to consolidate what they know.
Some of the dogs' owners wanted to know whether their dogs would in future want to go looking for snakes. But this wasn't a problem because they were just matching cloths in a line-up, not being rewarded for seeking out the source of the scent.
The joy of learning
The positive reinforcement method meant that the dogs didn't fear making a mistake. Having no fear of failure means the choice reliably indicates what the dog thinks – it's not just a guess. Shannon says it was "amazing" to watch the dogs make decisions. "That leap of faith moment – that feeling of mental relief – is a reward in itself. And they never forget it."
She's no stranger to the drive for learning and accomplishment. She always wanted to study zoology but was financially unable to go to university straight after school. After working and starting a family, she eventually started studying at Wits part-time, while self-employed.
Shannon owns McKaynine Training Centre, a school for dogs and their owners. "It's very fulfilling to understand the mechanisms of what you see happening [when working with animals]. Studying opened different parts of my brain – it's an incredible privilege. It's staggering what having a good qualification has done for my reputation. And it sets an example: working with animals can be a legitimate profession."
She still has an itch to do a PhD …
Elephants' amazing sense of smell
That's what her fellow researcher, zoologist Ashadee Miller (BSc 2007; BSc Hons 2008, MSc 2016), is busy with. Aside from dogs and meerkats, Ashadee has used elephants in her scent research. "They're helping me understand exactly how smelly some snake species are."
She worked with the animals at Adventures With Elephants, a wildlife reserve in Bela Bela, Limpopo, which cares for several elephants that were going to be culled.
She says training techniques can be applied to most species – with fine-tuning. "And it's in this species-specific fine tuning that you really learn how to train. You have to be adaptable, and understand the constraints of working with these different species. Simple things like the fact that an elephant has a much larger turning circle than a meerkat does, so the logistics of getting an elephant to move through a scent line-up is different from how you get a dog or a meerkat to do so. But elephants learn so quickly, and they remember!"