Dean of Students – our very own student protector
- Wits University
The Dean is the steward of students and promotes fairness and accountability in matters that relate to students and the various arms of the University.
The current challenges in the higher education sector require a reimagining of the roles of student affairs and student services departments at institutions of higher learning, says Dr Puleng LenkaBula, Dean of Students.
"This is one of the greatest periods for universities to rethink how they position or work with student affairs units. If these units had been repositioned as co-curricular departments, some of the issues bedeviling the sector today could have been averted," opines LenkaBula who speaks from experience of being an academic and an advocate for education as the best resource and option for individual and societal development.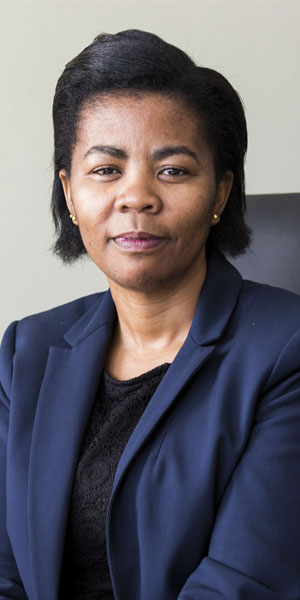 If positioned as co-curricular departments rather than as just administrative units of student support services, student affairs would optimally function as the stewards of the university's primary stakeholders, the students, and would thus function catalytically as a conduit and anchor mediation in-class room and out of class experiences in the formation of students as intellectuals, scholars and innovators within and outside the classroom. In this sense, student affairs would be the locus of support and facilitation of the nexus between academic, psycho-social and student governance, and thus, an anchor of and for academic success and civic development of and with students, she says.
"The changes that are sweeping through the higher education sector that are placing students at the centre of decision-making processes at universities are taking place at an opportune time wherein we have to re-think and/ or think anew the ways in which universities, and or their core business, which is tuition, research and development and community engagement bring about meaningful change to society and students."
LenkaBula, who served as a dean at the University of South Africa before joining Wits in March this year, received a baptism of fire as she was immediately drawn into meetings and issues of student advocacy ranging from confrontations between student groups to dealing with student financial assistance, accommodation and a range of other matters.
On her first day she did not even set foot in her office and only managed to get her access card in the second week due to demands on her time. Her office can be likened to that of a public protector in that she is the protector of students and promotes fairness and accountability in matters that relate to students and the various arms of the University.
Compassionate and Inclusive Universities
Lenka-Bula lives the values that she espouses – building a compassionate and inclusive society. Recently she was part of a Wits delegation that supported the families of the Wits7 who died in the tragic accident in Limpopo on 1 May 2016. For over a week her office coordinated activities between the families, government authorities, student leadership and the church. Her office continues to support the six students who survived the accident.
"Success is not only at graduation, it starts with how we create a positive learning experience for students from their first day and continues to when they become alumni of the universities who are committed to come back to their alma mater and use their talents to build the university."
The mother of two teenage boys describes herself as a beneficiary of care and compassion.
"I wasn't raised by my biological parents at all times, I was raised by my parents of love and maybe that is what has instilled the desire in me to be part of a society that tries to create an equilibrium in which no one persons' dignity is undermined whether because of ability, disability, economic background ethnicity or gender, sexual orientation and or place of origin. I do care about these values because my life has been formed by them and I perceive education as not only about acquisition of knowledge but as a quest for knowledge in order to advance constructive if not progressive chance and to participate in the co-creation of an inclusive and just society."
An ethicist by profession, LenkaBula holds a PhD in ethics from UNISA in which she explored the ethical implications of Bioprospecting and Intellectual Property Rights on Life Forms as the emergent spheres of colonisation of Africa, a masters in ethics from St Andrews College, University of Saskatchewan in Canada and Bachelor of Arts in Education from the University of Lesotho. She is widely published in ethical subjects, gender, religion and African feminism. She authored a commissioned book titled Choose life, Act in Hope: African Churches Living out the Accra Confession – Covenating for Justice in the Economy and the Earth which interrogates economic justice in the context of globalisation and roles of ecumenical movements in charting alternatives.
Beyond work
Asked about her interest outside of her work, she sheepishly responds: "Work anchors me. It excites me – maybe I am a little boring," before sharing stories about her travels and other interests.
The widely travelled scholar admonishes herself for her delay in visiting Mali. "I haven't yet been to Mali – as an African scholar it is important to understand the deep historical contribution of Mali, their contribution to our understanding of epistemology, cosmology and more..."
She is also an art collector.
"I love beautiful art but I don't like paintings of black women who are not smiling. If you go to any museum the faces of black women that are projected by artists, South Africa artists in particular, often have sad black women and yet we laugh a lot. We laugh in difficult times, we laugh when we have good ideas that change academic systems."
"I try to make sure that the art that I procure speaks truth to the experiences of happiness that I see in black women. I don't like images of black women with babies on their backs because they recreate stereotypical images that apartheid created as stereotypes of black women. Even with my art I am very attentive of its meaning – what it is encoding and decoding."
With all these insights and experiences, one gets the sense that Wits students have an a true ally in her, one who is not afraid to challenge the status quo, someone who is in touch with the local and global – but above all committed to student success and social justice.