When a problem is your answer
-
Entrepreneur Phillipa Geard was the guest speaker at a careers event for Wits students and alumni on 16 July 2019.
Wits students and young alumni heard some valuable, hard-won career advice from Phillipa Geard at a talk hosted by Alumni Relations and the Counselling and Careers Development Unit on 16 July 2019.
Geard is the founder of two innovative recruitment platforms, RecruitMyMom and RecruitAGraduate. She is a passionate marketer whose career experience includes working in a big company as well as consulting to businesses and setting up her own enterprise.
RecruitMyMom meets the need of skilled workers for flexible, part-time employment and the needs of employers. This idea and Geard's execution of it have won several awards for entrepreneurship. Founded in 2012, the service already has more than 60 000 workers on its platform.
In March 2019, Geard launched RecruitAGraduate, matching graduates and interns with opportunities.
Geard told the audience the story of how she became an "accidental entrepreneur" and shared some of her thoughts about the Fourth Industrial Revolution. ("Be as human as you can – that's how we beat the machines!")
First find a problem
Her definition of an entrepreneur is basically someone who identifies a problem that a defined group of people are experiencing, and then fixes it.
She warned that running your own business is "ridiculously hard", but said the reward is seeing the difference you can make in people's lives.
Straight after university, Geard was recruited by a large, international company, Procter & Gamble, and she had a successful career as a marketer for its brands. She aimed to become a director and did not think about having her own business. When she decided at the age of 32 to take a career break to have children, she intended to return to corporate life. But as a mother, she found that her feelings about her career had changed completely. She began to consult to companies and realised that small businesses often need to hire good skills on a flexible basis. She also realised that many women want to work – and the economy needs their skills – but they drop out of the workplace and out of the executive pipeline because they need flexibility as mothers.
Match it with a solution
Geard had found her problem and her solution. She researched ways of matching people's needs online and models for earning revenue. With long hours and hard work, RecruitMyMom came into being. On a small budget, Geard played almost all the business roles herself at first and used all the free marketing opportunities she could find, including business competitions. Measuring impact in terms of visitors to her website gave her the confidence to take more risks and she became an employer and an advertiser.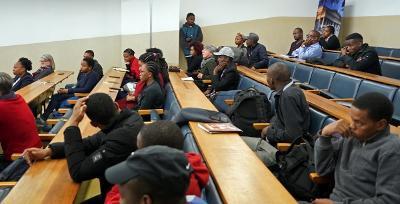 A speech by President Cyril Ramaphosa in 2018 inspired her to make a difference in the lives of young people, and she created a new recruitment platform to match graduates with smaller companies – the ones that don't visit graduate recruitment fairs on campus.
Phillipa Geard's lessons for entrepreneurs:
Successful entrepreneurs are successful problem-solvers.
Don't follow the crowd: look where the crowd isn't looking.
Know how to communicate your solution to the people who will use it.
Change is constant. Get comfortable with change.
Be humble. Learn from others who have been where you need to go.
Ask staff and colleagues for help.
Hire people who are smarter than you. That includes young people.
Ethical leadership is the only way to lead. It creates an environment of trust.
Name and share the values that your company stands for. Staff who know how to behave will be empowered to make good decisions.
You work with real people with real feelings. Everyone wants to be heard.
Your staff are your greatest asset.
Businesses are not about transactions; they are about people.
Learn resilience.
If something doesn't work, it doesn't mean the idea is bad, but perhaps the execution isn't right.
Look after yourself physically, emotionally and spiritually. Spend time with your family, read inspiring things, get some balance.
Adapt and learn things outside your field of study. Don't see things in silos. Broaden your horizons.
Use all the free material available online and read books. This can make you stand out from the crowd.
Don't just be employable – look to employ.
Lead by example and don't be afraid of hard work.
Don't despise the smallest job or a bad boss. Learn from everything.
As Forbes magazine put it: the difference between an entrepreneur and someone who just runs a business is about being a leader versus a manager. Leaders work ON the system; managers work IN the system.