Honour for a friend to South Africa
-
5 December is a historic day in South Africa and is associated with life events of major liberation leaders.
The founding president of the Pan Africanist Congress, Robert Mangaliso Sobukwe was born on this day while the first democratically elected president, Nelson Mandela, departed on this day. Sobukwe taught at Wits from 1954 to 1970, the same institution that was Mandela's academic home in the 1940s as a law student.
The 5th of December will once again go down in the history of the University as a key occasion, a day on which the University bestowed its highest honour to a champion of social justice.
Wits University conferred an honorary doctorate of laws on Franklin Thomas, the first African-American president of the Ford Foundation during a graduation ceremony of the Faculty of Commerce, Law and Management.
Wits Vice-Chancellor Professor Adam Habib described Thomas as a friend to South Africa and played a key role in mobilising support for the oppressed during apartheid rule.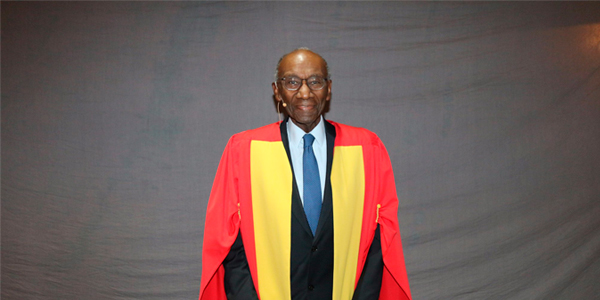 "He is widely recognised as having contributed uniquely to transformation in the USA, South Africa and worldwide. Under his leadership, the Foundation was seen by the most important actors – such as the then banned and exiled ANC – as a desirable exception in its action to boycott the apartheid government, and strengthen American support for social justice programmes in South Africa," reads the citation presented to guests at the graduation ceremony.
"The Foundation supported the establishment and operation of the Centre for Applied Legal Studies at Wits University as well as the Legal Resources Centre. Grants by the Foundation enabled large numbers of black South Africans to study for degrees in preparation for a free South Africa.
" In his acceptance speech, the activist and philanthropist said that although he has received recognition from many institutions, the Wits honorary doctorate holds a special place in his heart, as does South Africa.
"Once you get involved with SA you cannot remove yourself or it from your life."
During his speech he reflected on his friendship with Mandela and the blueprint that he left for the entire world. He also took the opportunity to remind students about their obligations to society as graduates of this prestigious institution.