Wits team flying high
- Wits University
Engineering students reach the top 50 in Airbus global aviation competition.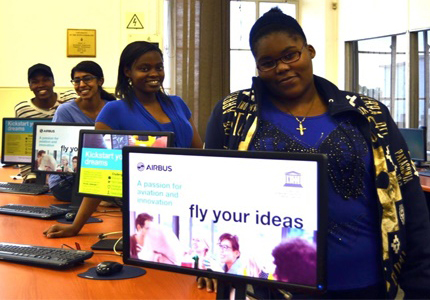 Four Wits Aeronautical Engineering students have progressed to round two in the Airbus Fly Your Ideas competition that challenges students from all disciplines to develop new ideas and innovate with Airbus for the future of aviation.
South Africa is represented by Team Aero Squad consisting of the four Witsies: Makhosazana Moyo, Seshni Govender, Thabiso Leballo and Buhle Dlodlo.
Traveller24 caught up with the team who are working on a passenger experience innovation set to reduce aisle congestion and boarding delays. Their idea is for an overhead luggage elevation system that allows the passenger to load hand luggage onto it whilst seated.
The team says their third year Aircraft Design lecturer in the School of Mechanical, Industrial and Aeronautical Engineering and mentor for the competition, Michael Boer, encouraged and motivated them to enter to expand their knowledge.
"We were always looking to balance the practical with the innovative. And for the team the problem was not what they should focus on but instead being able to choose one key idea out of many."
Read the full story: SA team from Wits makes top 50 in Airbus global aviation competition