Wits pair in US Boeing internship
- Wits University
Two Witsies have joined an elite group of international interns at the world's largest aerospace company.
Witsies Mbalenhle Sekautu and Keegan Moore are serving their internship at Boeing, the world's largest aerospace company and leading manufacturer of commercial jetliners and defence, space and security systems.
Sekautu, holds a Masters in strategic marketing while Moore recently completed his Honours degree in industrial engineering.
The pair began their six month internship in January and joined an elite group of international students getting comprehensive experience at the company's facilities in the US.
The International Business Internship Program (IBIP) provides students with valuable exposure to the latest technological and business advances and thinking in a variety of disciplines relating to business operations, finance, marketing, strategy and the aviation industry.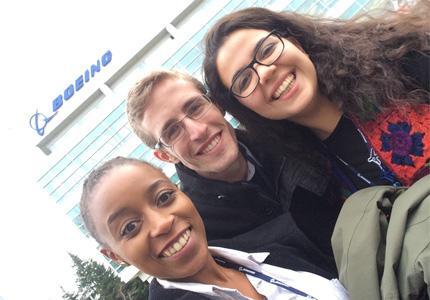 Sekautu says she learnt of the IBIP through her Programme Manager at the Wits Business School and seized the opportunity.
With a keen interest to understand consumer behavior, she is excited to be learning from product marketers, analysts and strategists who will give her invaluable experience for her chosen careen path.
"I am confident that this experience will add to my continued personal growth through acquainting myself with a diverse group of potential lifelong friends and mentors, people I can continue to draw advice and inspiration from as I navigate my way through life beyond this internship."
For Moore working at Boeing was his childhood dream.
"I have wanted to work for Boeing since I was about 11 years old, when I was utterly inspired by the Boeing 777-300 ER."
An aspiring entrepreneur, Moore also wants to use the internship as an opportunity to learn about other cultures and business styles around the globe.
"One of my goals is to start my own company someday, I cannot think of a better place to gain experience about the vast complexities and challenges I may someday face," he says.
Boeing Managing Director for Sub-Sahara Africa and Director of Commercial Airplane Sales for Africa, Joao Miguel Santos, wished them well on their internship.
"The students will be provided with US-based work experience that will prove extremely valuable when they return and invest their new skills to the benefit of South Africa."