Winners of prestigious VC's Awards announced
- Wits University
Several Witsies were honoured for their outstanding service at the 2016 Vice Chancellor's Awards.
Each year, the Vice-Chancellor awards individuals and groups who have greatly contributed in serving the Wits community through their excellent work.
At a function held at last week at the new Tshimologong Precinct in Braamfontein, Wits VC, Professor Adam Habib, handed out awards for excellent service in research, transformation, academic citizenship and teaching.
Vice-Chancellor's Research Award
The 2016 Vice-Chancellor's Research Award was awarded to Professor Ebrahim Momoniat, from the School of Computer Science and Applied Mathematics. The award is University's most prestigious award for research. The purpose of the Vice-Chancellor's Research Award is to stimulate research and research-related scholarly activities by acknowledging and rewarding a quite exceptional worker, who has been engaged in research and more general scholarly activity at the University over a sustained period of years.
Vice-Chancellor's Academic Citizenship Award
Professors Judith Bruce and Barry Dwolatzky were joint winners of the VC's Academic Citizenship Award. The award recognises an individual's cooperative involvement, as an academic, professional and subject specialist, in the community of their Faculty, the University, the wider national community, and the international community of scholars, in delivering a service, performing tasks, and making contributions to the functioning, wellbeing, and upliftment of these communities.
It includes those organisational citizenship activities conventionally classed as 'administrative duties' as well as those related to 'community service' or 'community participation'.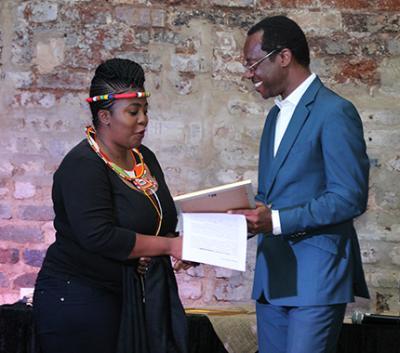 Professor Bruce is the Head of the School of Therapeutic Sciences and has gone way beyond the duties as the Head of School and launched the NEPAD project on Nursing and Midwifery Education in Africa attest to her as being more than a worthy co-winner.
Professor Dwolatzky has been the Director of the Johannesburg Centre for Software Engineering (JCSE) since May 2007 and since his appointment, he has made an impressive impact with a diverse portfolio. He was awarded for his role in the development of the JCSE, which epitomises the building of partnerships between academic institutions and the communities around them.
Vice-Chancellor's Individual Teaching and Learning Award
Dr Peace Kiguwa, a Senior Lecturer in the Faculty of Humanities, has been nominated won the 2016 Vice-Chancellor's Individual Teaching and Learning Award. Dr Kiguwa was also unanimously selected by colleagues in the Faculty as one of the recipients of the Faculty Teaching and Learning Award for 2016.
Dr Kiguwa currently works as an Independent Reseacher on two joint projects funded by the Ford Foundation on Young Women's Leadership in Higher Education and Destabilising Heteronormative Practice within Higher Education (funded by Aid International). She also serves as research consultant for Poetso Music Project, an NGO-based venture focused on the rehabilitation of male prisoners through music
Vice-Chancellor's Transformation Award
Nqobile Malaza was the recipient of the 2016 VC's Transformation Award. She was awarded for her work which made a major impact of a transformative nature in her school as well as the Faculty of Engineering and Built Environment. Malaza was the first chairperson of the School Architecture and Planning Transformation Committee and subsequently chairperson of the Engineering and Built Environment Faculty. Last year, she started groundwork for the Students Success Fund to raise funds for needy and deserving students.
Vice-Chancellor's Team Teaching Award
A team of academics from the Department of Media Studies comprising of Dr Nicky Falkof, Professor Mehita Iqani, Dr Dina Ligagaz, Dr Cobus van Staden, Dr Ufuoma Akpojivi, Dr Iginio Gagliardone and Dr Glenda Daniels won the VC' Team Teaching Award 2016. The group was unanimously nominated by their colleagues in the Faculty for the Award. They had developed and demonstrated a deep capacity for team work, collegiality and inclusive decision-making across the three years of their undergraduate curriculum which had significant implications for the quality of their intellectual environment as well as for throughput rates.
The pass rate for the 1st year course Media and Society (SLLS1005) increased from 67.4% in 2014 to 90.4% in 2015 as a result of innovations in course design, teaching schedule and use of e-learning books.