Wits' Gabi Ngcobo to curate Berlin Biennale
- Wits University
The Fine Arts lecturer will head the 10th Biennale taking place in Germany next year.
Ngcobo is a lecturer in the Wits School of Arts Division of Fine Arts, artist and independent curator. Since the early 2000s Ngcobo has been engaged in collaborative artistic, curatorial, and educational projects in South Africa and on an international scope.
She already shares connections with the Berlin Biennale for Contemporary Art – an outstanding cultural event funded by the German Federal Cultural Foundation. Its mission is to serve as an experimental platform for exploring and expanding the format of the exhibition and a curatorial agenda as well as for examining current global discourses and developments in relation to Berlin as a local point of reference.
In 2008 Ngcobo participated in the second edition of the Young Curators Workshop Eyes Wide Open on occasion of the 5th Berlin Biennale, and in 2014 the Center for Historical Reenactments presented its project, Digging Our Own Graves 101, as part of the 8th Berlin Biennale.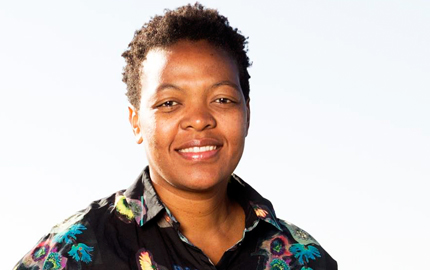 She recently also co-curated the 32nd Bienal de São Paulo, currently taking place at the Ciccillo Matarazzo Pavilion in São Paulo, Brazil, and A Labour of Love, 2015, at Weltkulturen Museum, Frankfurt am Main, DE.
Ngcobo is a founding member of the Johannesburg-based collaborative platforms NGO – Nothing Gets Organised and Center for Historical Reenactments (CHR, 2010–14).
NGO focusses on processes of self-organization that take place outside of predetermined structures, definitions, contexts, or forms. The CHR responded to the demands of the moment through an exploration of how historical legacies impact and resonate within contemporary art.
She has worked at the Iziko South African National Gallery in Cape Town and at the Cape Africa Platform where she co-curated the Cape07 Biennale, 2007, Cape Town, South Africa.
In the past she has collaborated with various institutions including Centro Atlantico de Arte Moderno (CAAM), Las Palmas de Gran Canaria, Spain; Durban Art Gallery, South Africa; Joburg Art Fair, Johannesburg, South Africa; Johannesburg Workshop in Theory and Criticism (JWTC), Johannesburg, South Africa; LUMA/Westbau,Pool, Zurich, Switzerland; New Museum, Museum as Hub, New York, US; and Raw Material Company, Dakar, Senegal, amongst others. She has been teaching at the Wits School of Arts, University of Witswatersrand, South Africa since 2011.
Her writings have been published in various catalogues, books, and journals. She currently lives and works in Johannesburg, South Africa; and São Paulo, Brazil, and will move to Berlin for the preparations of the 10th Berlin Biennale.