Hat trick of awards for Wits medical anthropologist
- Wits Communications
A Professor of Public Health and Medical Anthropology at Wits has earned a National Research Foundation A-rating as well as local and international accolades.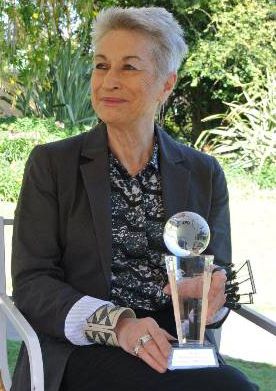 Professor Lenore Manderson is a Distinguished Professor of Public Health and Medical Anthropology in the School of Public Health at Wits and a Visiting Professor of Anthropology and Environmental Studies in the Institute at Brown for Environment and Society (IBES), Brown University, USA.
She has worked as a medical anthropologist and social historian of medicine for over 40 years. Her research interrogates gender, sexuality and reproductive health; infectious and chronic disease; access to and ideologies of medical and health care; and disability and inequality.
In September 2016 Manderson received an A-rating from the National Research Foundation. A-ratings are awarded to scientists whom their peers internationally acknowledge as global experts in their fields.
In October Manderson was elected to the Academy of Science of South Africa. The Academy elects as members the country's most outstanding and celebrated scholars whose science benefits society.
Manderson says, "I joined the University of the Witwatersrand in 2014, after ten years as an honorary professor, and I thrive here and cherish the intellectual environment of this country. I am truly honored to be so recognised by my South African and international peers through these awards. I am proud to be part of South Africa's scholarly and scientific community, and I look forward to continuing to contribute."
Most recently, the Society for Medical Anthropology (a section of the American Anthropological Association) awarded Manderson its Career Achievement Award. This prize honours an individual who has advanced the field of medical anthropology through theory or method, and who has successfully communicated the relevance of the field to the public.
"I have thrived as a member of the Society of Medical Anthropology as well as through the other international opportunities and activities reflected in this award. This global intellectual network of my friends and colleagues has nurtured me for many years, and I treasure the honor they have given to me," says Manderson.
Manderson was trained in Asian Studies and conducted her early field research in Peninsular Malaysia. As a medical anthropologist and social historian of medicine, she researches questions of public health among diverse populations in Australia, east and south East Asia, and increasingly in Africa.
She has supervised to graduation some 150 higher degree students and is committed to building research capacity among those in or from resource-poor settings. In this regard, she has an enduring association with the Wits-associated Consortium for Advanced Research Training in Africa (CARTA).
Manderson is the author of over 600 books, articles, and other publications. In May 2016 she co-authored, The Routledge Handbook in Medical Anthropology. Prior key works include, in medical anthropology, Surface Tensions: Surgery, Bodily Boundaries and the Social Self and, in social history, Sickness and the State: Health and Illness in Colonial Malaya, 1870-1940.
Manderson edits the international journal Medical Anthropology and convenes the annual IBES conference, Earth, Itself, which focuses on the connections between art and science.