Linguists vital in averting conflict
- Wits University
Linguistics enable us to read between the lines, to argue persuasively and to expose underlying or hidden meanings.
Dr Maxwell Kadenge, a Linguist in the Departments of Linguistics and African languages, is a recipient of multiple awards including the African Language Association of Southern Africa (ALASA) award.
The accomplished scholar recently received the award for the "most outstanding article in linguistics" from the Association. This was his third award from the Association having scooped the same in 2012 and 2014. Read articles below.
Kadenge who serves on the editorial staff of the Linguistics Society of Southern Africa, says his research which gathers massive original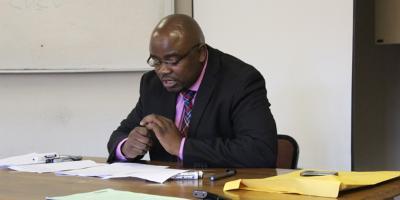 data, provides an empirical contribution and presents extensive descriptions of poorly studied African (mainly Bantu) languages.
"This allows me to challenge the efficacy of existing theories, to suggest alternative ways of analysing African language data, and to develop new theories."
He is fascinated by linguistics for its ability to decode meaning and foresee conflict before it erupts.
According to Kadengea linguist is able to easily identify hidden meanings in the use of emotionally charged expressions like 'foreigner', 'gay', 'sell-out' etc in any form of communication.
"Discourse analysis and rhetorical studies, among many other sub-disciplines of applied linguistics, enable us to read between the lines, to argue persuasively and to expose underlying or hidden meanings."
"These are invaluable skills which are required in conflict-ridden areas of our everyday life like law, politics, digital and traditional media and religion etc. Thus, linguistics provides us with tools for the understanding of the appropriate use of language in context" and averts conflict," he adds.
As an academic discipline, linguistics inculcates in students confidence, respect for accuracy and understanding of complex situations.
Aside from producing academic material, he regularly contributes to public discourse.
Penises in SA - what's the big idea? was published in the Mail and Guardian. His input is also recorded in the book Crisis! What Crisis! The Multiple Dimensions of the Zimbabwean Crisis which explores diverse issues such as resource politics and livelihoods, migration and language to demonstrate the ingenious ways in which citizens mediate the crisis.
'Where art thou Sesotho?': exploring the linguistic landscape of Wits University published in 2015 sought to engage with his own institution. The findings from this study suggested that the linguistic landscape of Wits is largely a reflection of the failed institutional language policy.
Kadenge's ALASA articles:
The augment and {mu-} reduction in Bantu: An Optimality Theory analysis (2015)
ChiShona periphrastic causatives as syntactic complex predicates: An HPSG analysis
Comparing chiShona loanwords of monolingual and bilingual speakers: An Optimality Theory analysis