Africa's top research university encourages postgraduate study
- Deborah Minors
The Postgraduate Recruitment Fair at Wits took place at the Science Stadium on Tuesday, 16 August 2016.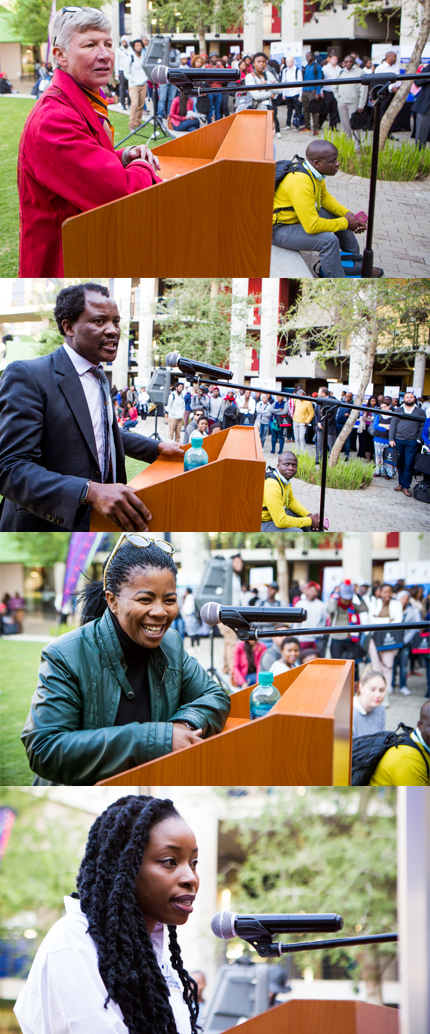 Hundreds of potential postgraduate students browsed pamphlets and posters, and spoke to representatives from schools across faculties about prospects for further study.
Professor Mary Scholes, Director of Postgraduate Affairs said there are currently 12 300 postgraduate students at Wits. "The intention is to grow this number to 15 000 in four years."
Wits aims to become a research-intensive and postgraduate University. The annual fair provides an opportunity to explore the options available.
Scholes outlined support available to postgraduates at Wits, not least of which are academics who play a major role. "It's hard to be a postgraduate, because of the expectation of immediate degree work," she cautioned, but pointed out that the Postgraduate Office offers over 55 workshops, writing retreats, and a symposium to support postgraduate students.
Scholes referred potential postgraduates to Dr Ian Geoffrey Kennedy, a Wits alumnus and independent researcher at the fair, who wrote a book entitled: How to do research: Today's tools and tips. Similarly, Dr Layla Cassim, an independent academic consultant, has produced a CD, The Postgraduate Toolkit. Eight students at the fair whose student numbers were randomly selected won copies of the CD.
The Postgraduate Association (PGA) also provides continual support. The PGA represents postgraduates on University governance structures, including Council. LeeAnne Masilela, Chairperson of the PGA said the association provides "intense research support". It focuses on postgraduate funding; networking and mentorship (via alumni); and represents postgraduates in supervisor/student disputes.
"We strive to ensure an amicable and fruitful postgraduate experience. Take advantage of the support structures in place," Masilela urged students. "Postgraduate study can be emotionally, financially, and sometimes even physically taxing. You will receive training at Wits that is second-to-none. It will push you over the edge, but you will be a better version of yourself. Then you can say, 'pick me to make this world a better place.'"
Dr Puleng LenkaBula, Dean of Students, took the opportunity to introduce herself and encourage the students. She was appointed to the post in March 2016.
Before concluding proceedings, Professor Zeblon Vilakazi, Deputy Vice-Chancellor: Research and Postgraduate Affairs, said: "Wits is officially the number one research university in Africa." He was referring to the "Shanghai" rankings announced days earlier, in which Wits was placed among the top 1% of universities worldwide. This "gratifying performance" is due in no small part to increased research output by academics that pursued Master's, PhDs and post-doctoral research.