Teacher smashes stereotypes
- Wits University
The Wits Business School graduate and Soweto teacher, is eyeing the country's top post in education.
Joy and excitement was palpable as an entourage arrived on campus. Leading them with a spring in her step was Phathutshedzo Sadiki, a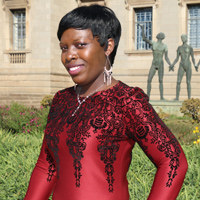 teacher, about to graduate alongside public sector and corporate professionals who were part of her class.
Thursday, 7 July was a crowning moment for the Soweto teacher who had successfully completed the demanding Postgraduate Diploma in Management (PDM) specialising in monitoring and evaluation. The PDM is offered by the Wits Business School.
Her choice of study continues to puzzle many; however, she laughs it off.
This is part of her plan as she wants to play a bigger role in influencing the education system in the country.
"I was only a year into my teaching career when I began to feel restless and unhappy about some aspects of our education system," says Sadiki.
She cites the various policy changes in education, which were poorly implemented and monitored, as one of the factors that prompted her studies in monitoring and evaluation.
Her goal is to play a more strategic role at provincial or national level.
Her determination speaks for itself.
Sadiki lifted herself from poverty when she enrolled for a teaching degree in 2008 after two years at home. When she completed her matric in 2005 her dreams to study further were thwarted due to funds. Fortunately, the Funza Lushaka Bursary provided by the government to promote teaching as a profession opened the gates for her.
The physics and mathematical science teacher admits that teaching was not her first choice. She envisioned herself in biomedical technology or analytical chemistry as she excelled in math and physics.
However, this all changed in her first year of study.
"I fell in love with the teaching profession as we went through the course material at the Wits School of Education. This love deeply anchored itself when I went for my first teaching practical in first year".
Teaching also helped her discover herself, she says.
Growing up Sadiki was shy and would not participate in class unless a teacher pointed at her. This is something many would find hard to believe, as she oozes confidence.
"It's quite ironic that I speak in front of people every day now!"
Teaching also assisted her to secure her brother's future. As a third year student, Sadiki saved the wages from a tutoring job to pay for her brother's upfront registration fee. Her hard work paid off when her brother graduated with a Diploma in Computer Science from Tshwane University of Technology.
Her mother, who was present at the graduation, was beaming. She never had the chance to finish school and her late husband only reached matric. Today her house has two graduates. Although she could not afford the fees, her daughter thanks her for her support during all these years.
Personal sacrifices have been made on this journey.
Sadiki self-funded her PDM studies on a teacher's salary while some of her classmates in the public and corporate sector received support from their employers.
"I sacrificed buying a car and a house, because I know that if I invest in my education I can buy an even better and bigger house once I have reached my destination. I did a cost benefit analysis and education made sense. I prize personal growth over material growth," says the spirited teacher.
Although her studies required that she attends class twice a week after hours, this however, did not affect her commitment to her learners. Proof of this is the string of congratulatory text messages that come through her phone during the interview.
The Letsibogo Girls High School teacher smashes all stereotypes about educators. With two qualifications in her bag, Sadiki is preparing to read for her masters, thereafter, a doctorate.