Mandela Day Food Bank Challenge: A call to action
- Wits University
Wits University staff members take on the Mandela Day Food Bank Challenge in celebration of Mandela Day.
The spirit of giving permeated Wits University on 19 July 2016 as staff came out in numbers to participate in the Mandela Day Food Bank Challenge, an initiative of the Wits Citizenship and Community Outreach Programme (WCCO).
The WCCO challenged departments at Wits to #BeMoreMadiba by donating non-perishable food in aid of needy students.
In celebration of Mandela Day, celebrated on 18 July 2016 by dedicating 67 minutes towards a worthy cause, the challenge aimed to encourage generosity among staff and students while celebrating what Mandela Day represents.
"The 67 minutes of solidarity with the Food Bank allows one to reflect on assisting students who struggle with hunger while studying at our University," says Karuna Singh, Senior Programme Officer at WCCO.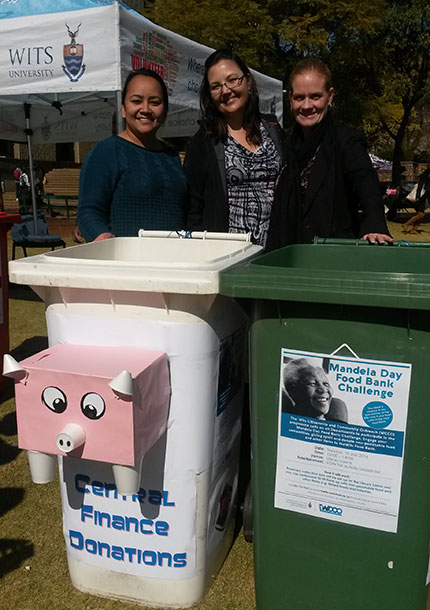 The Food Bank requires ongoing donations of non-perishable food in order to meet the needs of hungry students on campus.
Since the beginning of the year, the Bank has already provided more than 2000 meal packs to students.
" We would not be able to do this if it were not for the good will of staff, students and other benevolent individuals", says Singh.
The late Nelson Mandela said, "While poverty persists, there is no true freedom."
Mobilising for the Advancement Division, Buhle Zuma, Senior Communications Officer in the Communications Department kept these words in mind when she went door to door to offices in Senate House, urging colleagues to participate in the challenge.
"If these students fail to meet their academic requirements because they are too hungry to study, they are not the only ones who lose. We are not only failing them but we are failing ourselves. Do your bit by donating food and help our students graduate," said Zuma.
"Besides, we need to increase our tax pool and the only way we can do that is to increase graduates who will give back to society," she said with a chuckle.
This mobilisation enabled the Advancement Division staff to fill a giant bin with non-perishable food.
The Mandela Day Food Bank Challenge was taken on with great success by various Departments at Wits including the Advancement Division, Central Finance, Public Health, Wits Sports, Central Networking Services, BIS, Wits Enterprise, the Faculty of Humanities, School of Law, and individuals from other departments as well.
The Central Finance office staff collected the most non- perishable items amounting to 617 items, followed by the Advancement Division with 369 items.
The total number of items collected was just over 1800.
An estimated 20 to 50 students per day rely on the Food Bank.
Two-thousand items would fill about 30 bins and these 2000 items, with an average of eight items each pack, enables the Bank to support 250 students in need.
The challenge to meet the needs of hungry, indigent students persists. The WCCO encourages all students and staff to continue donating non-perishable food or to volunteer.
Visit the WCCO on the ground floor at the Matrix to see how else you can assist.
For their 67 minutes, the Wits Central Archives Department volunteered at the WCCO and donated 121 sanitary towels in solidarity with students who are unable to afford them.