Wits drama in Grahamstown
- Wits University
Wits is showcasing its artistic talent at the iconic National Arts Festival currently underway in Grahamstown.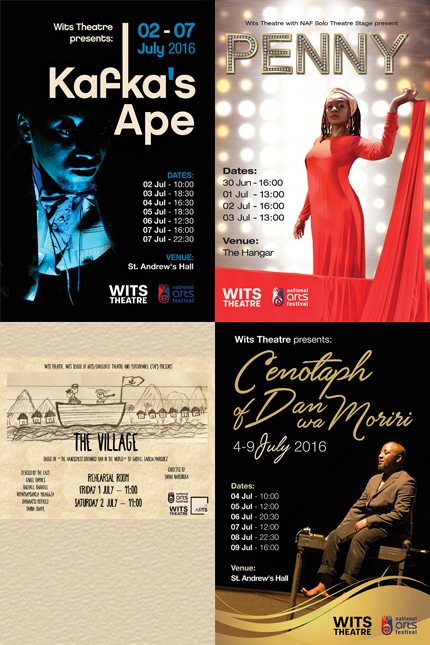 The festival, now in its 42nd year, is worth all the hype as it attracts top performers and shows including drama, dance, physical theatre, comedy, opera, music, jazz, visual art exhibitions, film, student theatre, street theatre and much more.
Five Wits productions are part of this biggest annual celebration of the arts on the African continent. The Wits Theatre, the Wits School of Arts and Wits Drama for Life Programme will deliver their best during the 11-day showcase.
Wits productions
Penny an expose of show business is at The Hagar. Penny tackles the issues of South Africa's theatre industry in a funny, thought-provoking manner. It is meta-theatre making serious statements about the arts in South Africa 21 years into our democracy.
Kafka's Ape, a Silver Ovation Award winner at the National Arts Festival 2015 was adapted by Phala O Phala and is based on Franz Kafka's A Report to An Academy.
The Cenotaph for Dan wa Moriri is the unfolding story of an intimate father-son relationship recalled and reconstructed through memory.
The Village is based on the Handsomest drowned man in the world.
AfriQueer is an evocative site-specific journey through multiple solo and group performances from across Africa; an intimate improvisational evocation into the lives of men living on a continent that violently rejects the 'other'. Show times.
Remix Laboratory
Drama for Life has partnered with the 2016 National Arts Festival, under the directorship of Mr Ismail Mohamed, to re-develop and grow the Remix Laboratory with a view to growing a long-term, sustainable relationship.
This year's Remix Laboratory, based at Crown Hall, will be a dynamic space of 'best practice' training for young adults who represent Community Theatre Groups from across South Africa. The laboratory will also have open, free performances and workshops for festival and community members in the afternoons.
If you miss this festival or want a double dose of the arts, be sure to catch the 969 Festival.
Running from 13 – 24 July at the Wits Theatre in Braamfontein, the festival has a diverse artistic appeal showcasing work from all over South Africa as well as two international productions from the USA and the UK.