Berger named as National Geographic's Explorer of the Year
- Wits University
Paleoanthropologist wins the award for the discovery of Homo naledi.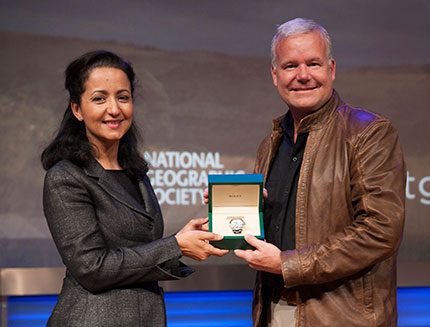 Professor Lee Berger of the Evolutionary Studies Institute at Wits University has been awarded the Rolex National Geographic Explorer of the Year award for his discovery of Homo naledi.
Berger, who made the major discovery of over 1500 fossils on the floor of the Dinaledi caves near Sterkfontein in the Cradle of Humankind, northwest of Johannesburg in 2013, made the announcement of the new species of human ancestor in October last year.
Berger has been an explorer in residence for National Geographic since 2013, after the discovery of Australopithecus sediba, also in the Cradle of Humankind in South Africa.
According to the National Geographic Society, the Rolex National Geographic Explorer of the Year award is bestowed on an inspiring individual whose actions, achievements and spirit personify leadership in exploration and reflect Rolex and the Society's commitment to pursuing scientific breakthroughs and sharing them with the world.
"The Homo naledi discovery, the single largest fossil hominin find on the continent of Africa to date, not only sheds new light on the origins and diversity of our genus but may alter existing assumptions about human behaviour," said the Society.
The announcement of the discovery garnered international media attention, including front-page coverage in more than 40 newspapers around the world. Berger was later named one of the world's most influential people by TIME magazine.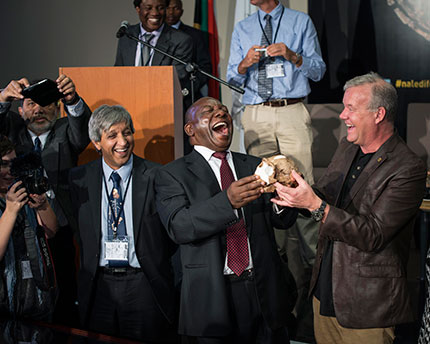 From the outset of the initial Homo naledi expedition, Berger insisted on an open and accessible research process, recruiting younger scientists via Facebook and publishing his findings in an open-access journal.
Terry Garcia, chief science and exploration officer for the National Geographic Society, and Mounia Mechbal, vice president of communications, Rolex USA, presented Berger with his award at an awards ceremony in New York on Friday (17 June).
"Our honorees are true leaders in research, conservation and exploration," said Gary E. Knell, president and chief executive officer of the National Geographic Society. "They are amazing individuals who have surprised us, inspired us and given us hope. We salute their efforts, and we are privileged to share their stories and experiences with our global audiences."