Professor Vishnu Padayachee inducted into the Johns Hopkins University Society of Scholars
- Wits University
Award honours former university staff who gained marked distinction elsewhere in their fields.
Distinguished Professor Vishnu Padayachee has been inducted into the Johns Hopkins University Society of Scholars on 11 April 2016.
Padayachee was one of 16 scholars who were awarded a Lifetime Fellowship of the society by the University, where served as a visiting professor, through a United States-South Africa Leadership fellowship, at the Paul H. Nitze School of Advanced International Studies in 1986.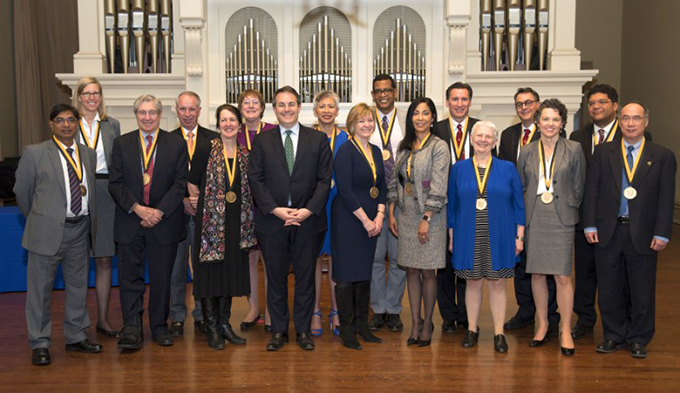 The Society of Scholars was created on the recommendation of then president Milton S. Eisenhower and approved by the university board of trustees on May 1, 1967. The society inducts a limited number of former postdoctoral fellows, postdoctoral degree recipients, house staff and junior or visiting faculty who have served at least a year at Johns Hopkins and thereafter gained marked distinction elsewhere in their fields of physical, biological, medical, social or engineering sciences or in the humanities and for whom at least five years have elapsed since their last Johns Hopkins affiliation.
Padayachee is a Distinguished Professor and holds the Derek Schrier and Cecily Cameron Chair in Development Economics in the School of Economic and Business Sciences at Wits. He is also a professor emeritus in the School of Built Environment and Development Studies at the University of KwaZulu-Natal.
In 1996, President Nelson Mandela appointed him to the board of directors of the South African Reserve Bank on which he served for nearly 12 years, completing his third term as a nonexecutive director in September 2007. Although trained in Keynesian macroeconomics, his research and graduate teaching fall within the confluence and traditions of political economy, economic history, and development studies.
In his acceptance speech, Padayachee said he was honoured by the award, and that he was grateful to many of his colleagues and students for assisting him through his successful career.
"They taught me mostly through their example so much about the real business and the purpose of academic endeavour: the freedom to think openly and critically, about the excitement of graduate teaching, about the value of elegant writing, about the fuzzy warmth generated by good research and publishing in top journals, about aiming ever higher and higher, about never settling for an average career," he said.
"I learnt a lot too both academically and socially from my graduate students, many from my own continent, whom circumstances had precluded me from meeting before."