Academic Events
CUBES staff and postgraduate students regularly discuss their research projects at academic events, including conferences, seminars, roundtables and colloquia. The core research events and initiatives of the PSUG programme are listed below, as well as highlights from 2015 to 2018.
PSUG postgraduate seminars are held twice a month and comprise a core group of full- and part-time students whose research fits within the PSUG programme (read more here). The Newton PhD training programme with Wits University and the University of Sheffield runs from 2016 to 2018, with two PhD exchanges taking place annually attended by PSUG PhD students (read more here). In June 2018 the PSUG International Workshop was held, as the final event of the three-year PSUG programme (read more here).
Other PSUG-related events are listed below by year:
2018
PSUG International Workshop (6-8 June 2018)
From 6 to 8 June 2018 the Practices of the State in Urban Governance International Workshop was held at the School of Architecture and Planning at Wits University, as the closing event of the NRF-funded PSUG research programme (2015-2018). The workshop aimed at consolidating and debating the key findings of the programme, along its three main themes, with key international and South Africa-based scholars who have inspired or engaged with the theme of the programme. Read more on the workshop here.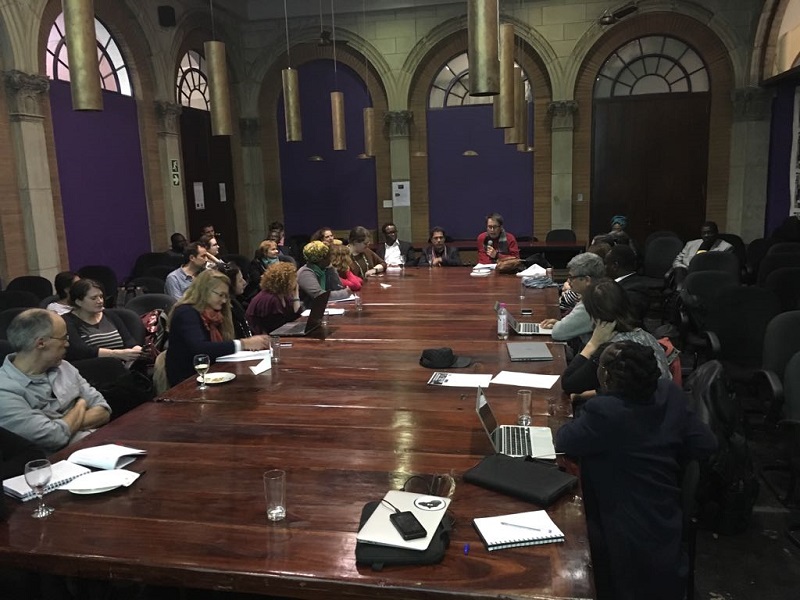 2017
Research Workshop on Materialities of Documentation
On 13 November 2017 IFAS and CUBES co-hosted a research workshop on the theme of Materialities of Documentation: Negotiating Statehood, Rights and Services in Contemporary Urban South Africa. The workshop was organised by PSUG members Jeanne Bouyat and Rodolphe Demeestère and brought together multi-disciplinary social sciences research that takes the materiality of documentation as methodological entry points to explore state-making and the tensions of post-apartheid transformations in the contemporary South African urban context. Read more on the workshop here.
A number of PSUG members presented on panels at the workshop:
Rodolphe Demeestère - "Producing documents to consolidate street-level legitimacy: Contested regulations of the spatial economy in Delft, Cape Town".
Claire Bénit-Gbaffou – "The challenges of formalising community involvement in service delivery in post-apartheid South Africa: Conflicting rationalities within Johannesburg City Parks and Zoo"
Darlington Mushongera - "Crafting the water policy: navigating bureaucratic fragmentation and its incoherence in Johannesburg municipality".
Jeanne Bouyat - "How does institutional xenophobia play out at school? The management of identification systems by school staff in low-income areas of Johannesburg: navigating control, confusion and fear".
PSUG Colloquium
On 10 November 2017 a PSUG colloquium took place in which PSUG postgraduate students presented their draft papers along the three programme themes: state-making through state-society engagements; unpacking the practices of state officials; and the politics of policy instruments in the city. A discussion was held on the cross-cutting issues coming out from the papers. Download the colloquium programme here.
Roundtables on Spatial Justice
On 15 May 2017, PSUG members presented at two roundtables on spatial justice at the IFAS conference on Experimenting / Experiencing the City (download the conference programme here). The first roundtable was on the theme: How does the notion of 'spatial justice' assist in understanding contemporary urban dynamics? The following PSUG PhD students made presentations:
Nqobile Malaza – Conflicting dimensions of justice in Back Economic Empowerment programmes in Johannesburg
Kate Tissington – How to build a "just" inner city housing policy? Contested understandings of justice in Johannesburg urban regeneration processes
Neil Klug – What is a "progressive" planning policy instrument? Reflections from South African cities
Moses Metileni – Negotiating "spatial justice": exploring disjunctive policy instruments in Johannesburg's housing praxis
The second roundtable was on the theme: What would "just" governance of street trading like in Johannesburg? Prof Claire Bénit-Gbaffou and Mamokete Matjomane were invited to be part of the discussion.
2016
he 2016 Southern African City Studies Conference (SACSC) was held at the Durban University of Technology (DUT) from 17 to 19 March 2016, hosted by the Urban Futures Centre.
The conference brought together scholars who wished to expose their work to positive critical discussion and engage with ideas of those working in disciplines other than their own. CUBES researchers and students presented papers in a number of panels, including on the Right To The City and Practices of the State in Urban Governance.
- See more at: http://www.wits.ac.za/cubes/events/southern-african-city-studies-conference/#sthash.QiyvlFDa.dpuf
2016 Southern African City Studies Conference
Between 17 and 19 March 2016 the PSUG programme hosted two themed panel discussions on "Practices of the State in Urban Governance" at the 2016 Southern African City Studies Conference in Durban. Download the 2016 SACSC Programme.
2015
PSUG Research Network
The PSUG research network is a broader informal group of individual researchers and research institutions with an interest in the state. Researchers and academics from a number of institutions form part of the research network, including: Public Affairs Research Institute (PARI), South African Research Chair in Spatial Analysis and City Planning, South African Research Chair in Local Histories and Present Realities, Gauteng City-Region Observatory (GCRO), Society, Work and Development Institute (SWOP), Wits School of Law, UCT Geography Department, Wits Geography Department, UJ Sociology Department, and the Centre for Learning on Evaluation and Results: Anglophone Africa (CLEAR-AA).
In 2015 four research themes were identified and assigned a coordinator.
Developmental State and Urban Transformation: Sarah Charlton (CUBES)
Policy-Implementation Gap: Claire Bénit-Gbaffou (CUBES)
Contestation and the Construction of the State: Margot Rubin (NRF Chair in SA&CP)
State-Society Encounters and Interfaces: Alex Wafer (Wits Geography) & Sophie Oldfield (ACC)
These themes will be explored over the three year period.
2014
Session at WISER Workshop on Global South Theory
In May 2014 Claire Bénit-Gbaffou and Sarah Charlton (both of CUBES) and Anne Pitcher of the University of Michigan facilitated a session on "Theorising State Practices in Urban Governance in/from Cities of the South" at the Wits Institute for Social and Economic Research (WiSER) workshop on The Global South as an Idea and a Source of Theory. See CUBES session WiSER conference 2014 . The session recognised emerging theories on the de-centered and de-territorialized postcolonial state in the contemporary context of urbanisation, transnational networks of power, and the growth of international non-governmental organisations and financial institutions. The facilitators considered how the agents, functions, and organisation of "the state" vary across space, how states across and within these spaces are conceptualised and differentiated, and how states' variegated encounters with activists are understood.
Panel Discussion at the 2014 Southern African City Studies Conference
In March 2014 the 2014 Southern African City Studies Conference was hosted at CUBES, and included a panel discussion on practices of the state in the governance of Southern African studies. See PSUG panel SACSC 2014. The panel considered the following issues: the state as simultaneously benevolent and violent; state power as both fragmented and consistent; and the false dichotomy between working within or outside of the state and implications for academics and practitioners. The panel included Noor Nieftagodien from the South African Research Chair in Local Histories and Present Realities and Ivor Chipkin of the Public Affairs Research Institute (PARI) as discussants.
CUBES Colloquium on "Exploring Practices of the State in the Governance of Southern African Cities"
In January 2014 CUBES hosted a colloquium entitled "Exploring Practices of the State in the Governance of Southern African Cities", inviting researchers outside of CUBES to present papers that addressed issues such as state-making at the intersection of mobile populations and local governments, constructing the post-apartheid city, social movements, and electoral politics. See CUBES colloquium Exploring Practices of the State ABSTRACTS.
2013
Ananya Roy Reading Group
In 2013 a reading group on informality and practices of city making was structured around the writings of Prof Ananya Roy, a professor of Urban Planning and Social Welfare (and now Director of the Institute on Inequality and Democracy at UCLA). Prof Roy visited the School in May 2013 to deliver the Rusty Bernstein Memorial Lecture, and joined CUBES for a workshop with postgraduate students and staff members. This discussion centred on how theories and research on informality in cities of the South speak to each other, and how a better understanding of the governance of informal practices and politics can inform alternative visions for cities and planners.
A special issue of the Journal of Development Studies entitled "Exploring Informal Practices of the State in Urban Governance: Crossing Indian and Southern African Perspectives" will be published in 2016 edited by Claire Bénit-Gbaffou and Sarah Charlton.