Housing and Informality
CUBES's research around housing includes issues associated with informal conditions, as well as current and potential housing policy responses. Proposing progressive ways of interacting with and managing informality and protecting vulnerable players from the less benign experiences of informality, is crucial for the future of South African cities.
Homelessness
The homelessness theme brings together previous work in CUBES on housing as well as work on the management of parks, undertaken with Johannesburg City Parks and Zoo (JCPZ). In 2018 a CUBES research team of staff and students investigated different aspects of homelessness in public space and its management, supported by JCPZ as well as with a grant from the Southern Centre for Inequality Studies (SCIS). An overview of the 2018 research was presented by staff and students at JCPZ in February 2019, and CUBES members participated in the SCIS conferences of Sept 2018 and March 2019. CUBES also participates in the Johannesburg Homelessness Network, a voluntary organisation established in 2018 which fosters partnerships between NGO's, the City of Johannesburg, faith based organisations, property owners and local communities.
Narratives of Home
CUBES is participating in the analysis and synthesis stage of the Narratives of Home project run by the Urban Futures Centre at Durban University of Technology. In 2019 this project is supporting bursaries for SoAP master's students undertaking research on a housing related topic, and provides a connection between the housing work of the centres at the two institutions. On this housing theme and the public space one below, CUBES supports two cohort forums in 2019 which bring together post graduate students across years of study and staff, to share research experience and build capacity.
Informal settlement support
Prof Marie Huchzermeyer and Neil Klug continue support to the Slovo Park Community Development Forum, in close collaboration with SERI, to promote the first implementation of an informal settlement upgrading project in the City of Johannesburg under the national Upgrading of Informal Settlements Programme. The work now involves collaboration with the City (Housing/ Human Settlements Department).
CUBES at the World Urban Forum in 2018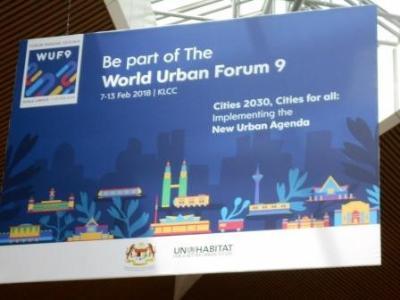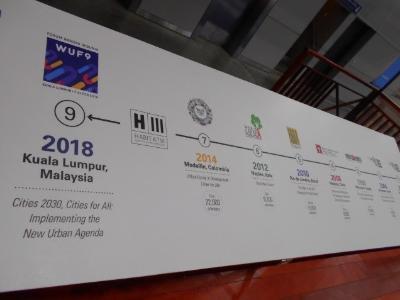 In February 2018, Professor Marie Huchzermeyer attended WUF9, the ninth World Urban Forum in Kuala Lumpur, which focused on urban inclusion and implementation of the New Urban Agenda. Along with other organisation in Habitat International Coalition (HIC), CUBES co-organised a side event on the Social Production of Habitat. A short report on this event with the full presentations or inputs from the speakers, including Prof Huchzermeyer, have been posted here.
CUBES's yearly Student Stakeholder Workshop on Informal Settlement Upgrading
Every August, CUBES hosts a Student Stakeholder Workshop on informal settlement upgrading, which is itegrated into a course called Housing Seminar. This is an elective in the masters degree in the field of Housing and is also offered as a short course. In this workshop students present along side representatives from grassroots organisations, NGOs, pro bono legal entities, municipal and provincial Housing or Human Settlements departments, the National Upgrading Support Programme, and the Housing Development Agencies. This workshop, which is open to other interested parties (to the extent that the venue allows), involves enquiry and debate both about the students' work and about various approaches, cases, policy debate and implementation challenges. The next student stakeholder workshop will be on 23 August 2018.
Department of Human Settlements Course on Informal Settlement Upgrading
In 2014 and 2015 CUBES contributed to the production of training materials for a 12 module course on informal settlement upgrading, for the National Department of Human Settlements. The course is aimed at community members, local authorities and project teams about to embark on an upgrading initiative.
The National Upgrading Support Programme has placed this training material here.
CUBES at the World Urban Forum 2014
In April 2014 CUBES Director Dr Sarah Charlton attended the World Urban Forum (WUF), a biennial gathering of urban and city experts, including governments, donors, NGOs and academics in Medellín, Colombia. There she co-hosted a side event titled "State-sponsored mass housing programmes: Outcomes for households" in collaboration with colleagues from the UK (University of Sheffield), Mexico and Angola, and presented research on RDP housing in Johannesburg. Back at Wits she presented her experiences at WUF and what it was like to encounter the city of Medellín, a high density, high poverty area which has been lauded for overcoming a violent history plagued by drug cartels and developed as one of the most innovative built environments in the world. See photographs from her presentation to the School of Architecture and Planning.
Rental Housing and Sectional Title Guides
Arising out of research with students in Yeoville-Bellevue in 2010 and 2011, CUBES worked with partners to produce three use-friendly information booklets. The booklets for tenants and sectional title owners were produced in collaboration with the Socio-Economic Rights Institute of South Africa (SERI). The third booklet produced by CUBES is a guide for landlords.
The guides, published in October 2013, have been vetted by experts in the field and provide advice and assistance around questions and concerns that many tenants, landlords and sectional title owners have.
See the left hand menu for information on related research and publications, the Inner City Database, and civic engagement.