The Great Hall
The Great Hall, also managed by the Performing Arts Administration seats up to 1035, has a rich heritage that dates back to the world premiere of the SA musical, King Kong and beyond. In 1993 we hosted the St. Petersburg Ballet Company in the premises.

In 1979 the Great Hall was refurbished and given a new acoustic treatment, an inner stage and a wide forestage with an hydraulic orchestra lift.

For many decades the Johannesburg Musical Society has presented its splendid recitals, featuring the best artists from this country and all over the world in the Great Hall.
Stage from Auditorium
Venue Plan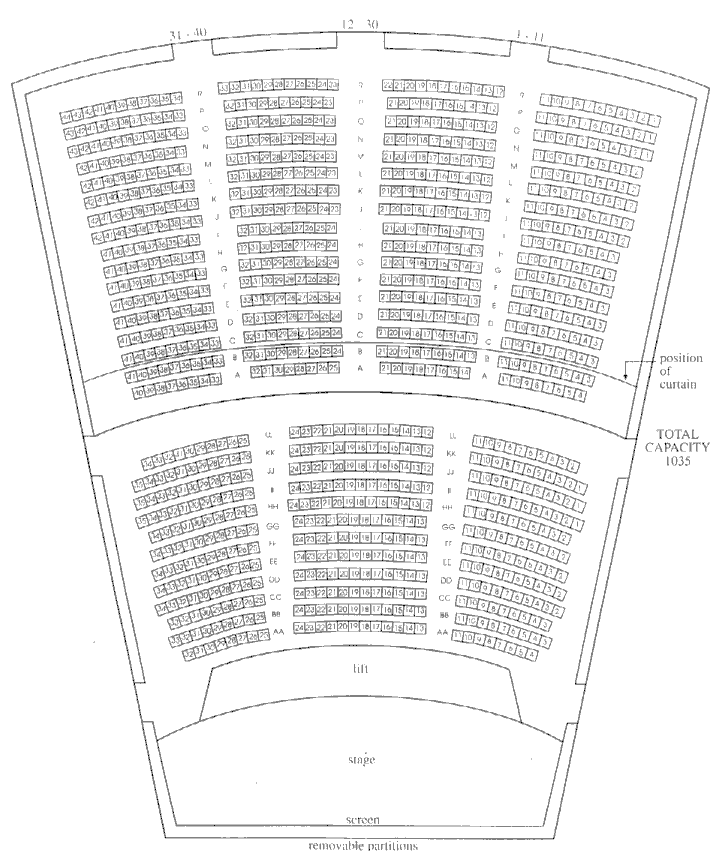 The Wits Great Hall Technical Specifications
AUDITORIUM
Seating Capacity: 1040/450 (When the auditorium is halved)
Wheelchair friendly, Under cover parking
STAGE
Proscenium:
Opening: 12m
Performance Area:
8m in front of stage of accoustic wall
Orchestra Pit:
4m x 10m
Dressing Rooms:
2
LIGHTING
Control Desk:
2 way preset 24 way board
Dimmers/Circuits:
24 - 2Kw circuits
Bars/Batterns:
FOH: 1 ONSTAGE: 1
Luminaires:
| | | | | |
| --- | --- | --- | --- | --- |
| Type | Number | Wattage | Globe Type | Suggested Use/Position |
| T84 | 5 | 1000w | T11/19 | FOH slots |
| Harmony PC | 1 | 1000w | T11/19 | Orchestra bar |
| JLS Fresnel | 2 | 1000w | T11/19 | Stage |
| Parcans | 10 | 1000w | CP62/63 | >Orchestra bar |
| Source Four | 6 | 575w | HPL575 | FOH |
| Flood nocturnes | 2 | 1000w | P2/12 | Stage |
| Patt 264 | 1 | 650w | T13 | Stage |
SOUND
Mixer:
Allen & Heath GL3
Yamaha MG
Amplifiers and Controllers:
5 x EV 7000A
3 x P/S Peak limiter
1 x Signal Processor
3 x Graphic Equalizer EQ-10
1 x Graphoc Equlizer - EQ 2710
FOH Speakers:
2 x EV Bass speakers
1 x EV HF 940
1 x EV HFT 420
1 x EV HFT 94
2 x EV B12/2a
Stage Speakers:
2 x EV Sx100
2 x EV FM-ER-1202
Micellaneous:
2 x CD players
1 x Tape deck
4 x AKG microphones
6 x Crown LM-300A



Share
Tweet