From Wits Rugby to the stars
- Nandi Buthelezi
Three Wits Rugby Players have been selected in the South African Junior Boks squad to compete in the 2019 World Rugby u/20 Championship in Argentina
It was only yesterday when Witsies Dameon Venter, Keagan Glade and Sibusiso Sangweni were recruited to play for the Golden Lions Rugby Club, the trio received their national call up to the Junior Boks squad and embarked on their preperations for the international test series ahead of the 2019 World Rugby u/20 Championship.
The World Rugby u/20 championship is an international rugby tournament that will feature 12 of the best rugby teams around the world. The tournament will follow a round robin format of three pools. The SA Junior Boks are placed in Pool C and will be up against Scotland, Georgia and New Zealand. The team will be looking to finish top four in the pool stages in order to qualify for semis. The championship is scheduled to take place from Wednesday 30 May – Sunday 17 June 2019.
Junior Boks Capping Ceremony (left – Dameon Venter, Center - Keagan Glade, right – Sibusiso Sangweni)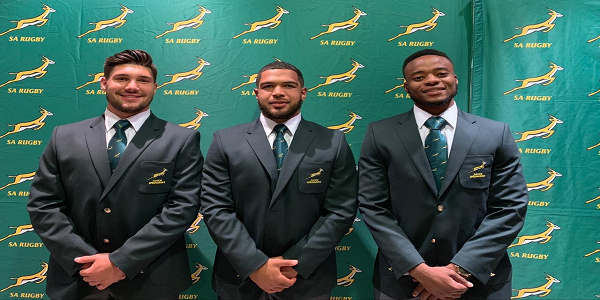 Loose forward Sibusiso Sangweni is currently in his first year pursing his degree in a BA General, Hooker Keagan Glade - second year Bcom Accounting student commented on the importance of balancing academics and sport: "It is hard work, discipline and determination. I was fortunate to go to a school that taught me how to balance the two."
Dameon Venter who is currently in his second year studying towards a BA General degree, commented on the joys of wearing the green and gold for his country:
"To wear the green and gold is a feeling only a hand full of privileged people have experienced and I am truly honoured to be part of the selected few. I am humbled by the opportunity and I am committed to my responsibility."
The team will face Scotland in their opening match at 15:30 this afternoon.