Freedom to study with dignity
-
Higher education may now be free for many students, but the challenge of studying with dignity is more important than ever. As access to university widens for the poor, even more support is needed to ensure that no student is hungry or homeless.
The high-profile Wits alumni who set up the South African Student Solidarity Foundation for Education (SASSFE) in 2016 have resolved that the organisation still has an important role to play in meeting students' basic needs. And university graduates have a responsibility to contribute to this effort.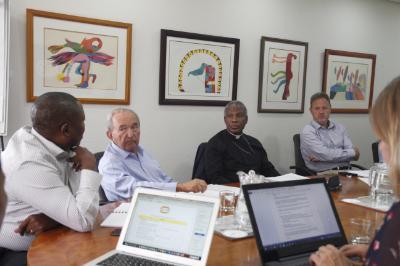 President Jacob Zuma's December 2017 announcement on free higher education left questions which will only be answered in the months ahead. The President said that higher education would be free for first-year students in 2018 if their combined family income was less than R350 000. Loans through the National Student Financial Aid Scheme (NSFAS) would be converted to bursaries. But it's not yet clear how this will be funded or exactly which expenses it will cover.
The SASSFE trustees and management committee discussed the impact of this development at a meeting on 5 February. These former Wits student leaders established SASSFE with the initial purpose of ensuring that poor students had, at least, enough to eat. The foundation has been raising funds for the Masidleni food project at Wits, which provides disadvantaged students with a hot meal every day on campus. This continues to be SASSFE's focus for now.
Coping with university's demands is already hard enough for students from poor backgrounds, said SASSFE management committee chairperson Tiego Moseneke (Black Students Society president 1983). "We can remove this one hurdle."
The fact that there are students in financial difficulty has not gone away. And if even Wits students need help to meet their basic needs, what about those at universities with smaller resources, asked SASSFE co-founder Terry Tselane (BSS President 1988).
"Many Wits alumni have been very successful," said trustee Justice Richard Goldstone (SRC President 1960 and Wits Chancellor 1996-2007). Giving back is a form of thanks for what they have received, as well as an investment in the future of South Africa.
SASSFE is proud of the inroads it has made so far, said trustee chair Archbishop Thabo Makgoba.
The trustees met to explore mechanisms of increasing SASSFE's financial base and its role in the light of the revamp of the National Student Financial Aid Scheme (NSFAS). They decided that NSFAS might not be able to address SASSFE's niche – the dignity of poor students.
More policy and regulatory certainty would help, said Moseneke. "The confusion [over how free education will be funded and what it will encompass] slows us down but we are building the foundation."
Trustee Justice Azhar Cachalia (BSS Vice-President 1981) said it was not yet clear exactly what government intended with higher education funding; the situation was in flux and the outcome would affect whether SASSFE broadened or narrowed its mission.
Meanwhile, SASSFE believes that university alumni, as beneficiaries of public higher education, have a responsibility to subsequent generations of students.
"Access to higher education is a privilege," said Moseneke. "We want to build a culture of alumni maintaining an interest in their university. This culture of alumni giving back is strong in the USA but has yet to take hold in South Africa."
Tselane said this is why SASSFE is asking for small but regular donations.
Every little bit helps, said management committee member Kenneth Creamer (SRC President 1991/92). A monthly contribution need be no more than the cost of a gym membership, for example.
Some alumni, however, have donated substantial amounts to SASSFE. Writer Thandeka Gqubule, for example, donated all the proceeds of her biography of former Public Protector and Wits alumna Thuli Madonsela*. So far this has raised about R175 000.
"It would be wonderful to see SASSFE grow into a national organisation," said Goldstone.
* No Longer Whispering To Power is available at a special price of R200 from the offices of Encha Group: contact Happy Botha on happyb@encha.co.za