No Place - an Exhibition by Jean Brundrit
- Wits University
The Wits City Institute is jointly hosting the Cape Town artist's exhibition with the Wits Anthropology Museum.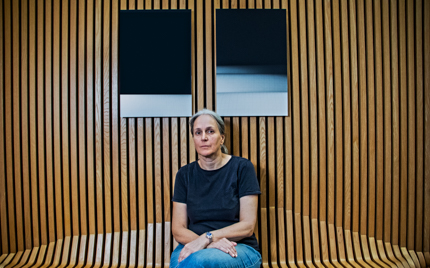 Space does not need to be a confined, fixed place, like a city. It can be an eternally moving space, where nothing is ever fixed, like the motion of the waves of the sea.
Artist and photographer Jean Brundrit is exploring the way that we look at things. As a visiting research fellow at the Wits City Institute and an NRF rated researcher, Brundrit launched her exhibition, No Place, which is hosted by the Wits City Institute, at the Wits Anthropology Museum last week.
In the exhibition, Brundrit looked at waves and seascapes as places that are not confined – a place that remains undefined and temporary – more of a space than a place.
Included in the exhibition is an artwork in book-form, Big Sea. Through the pages of Big Sea, the viewer embarks on a journey of discovery – in both temporal and geographic terms. Brundrit combines her own images with archival photographs.
These photographs were taken in the late 1920s by Captain R.L.V. Shannon, who skippered a research vessel in the Western Antarctic region, and contemporary photographs taken in the Southern Ocean by her father, Geoff Brundrit, an oceanographer. Brundrit's photographs converse with those from the archives of her father and Shannon, creating visual dialogues across time and space.
"Shannon looked at the sea from a navigational point of view, while I looked at it from an artist's point of view," says Brundrit, a visiting research fellow at Wits City Institute, and an NRF rated researcher.
Brundrit, who admits she has a mild obsession with pinhole photography, likes to experiment with different technologies and media. For one of her works, she used a piece of ice as her camera lens to photograph a globe, while in a separate work she used 3D laser technology to photograph a wave in the sea.
Brundrit teaches photography as part of the Fine Art courses offered at the Michaelis School of Fine Art at the University of Cape Town. She has exhibited in South Africa and contributed to a number of international exhibitions.
Her research interests are primarily concerned with exploring identity, specifically lesbian identity and strategies of visual representation within a South African context.
The exhibition will run until 3 June at the Wits Anthropology Museum.