Finding identity in conflict
- Wits University
Exploring the identities of communities through pictures with Svea Josephy
Kosovo, Beirut, Marikana. These are all names of places that bring up violent images of war and suffering.
Yet, many South African communities have chosen names like these for the areas they live in.
Beirut in Alexandra was named when hostel violence erupted in the area in the early 1990s and refers to the Lebanese Civil War (1975–1990). Kosovo, a settlement in Cape Town developed after an invasion of private land, invokes the war in Kosovo in Central Europe (1998 – 1999) and Marikana near Philippi in Cape Town was established shortly after the tragic events at Marikana in North West Province in August 2012.
These places are all subjects of the Satellite Cities photographic exhibition by Cape Town researcher and photographer Svea Josephy that is currently on exhibition at the Wits Art Museum.
Josephy, a Senior Lecturer in Fine Art (Photography) at the Michaelis school of Fine Art at the University of Cape Town is fascinated by post-apartheid photography, particularly as it connects to the politics of space and the land and its representation in relation to identity.
"I wanted to draw out the similarities between the two places (the new place and the original place name), so I am looking for some kind of formal similarity, like a bunch of flowers that extends between the two places, or a sports field or a roof. Some sort of similarity, which connects the places," says Josephy.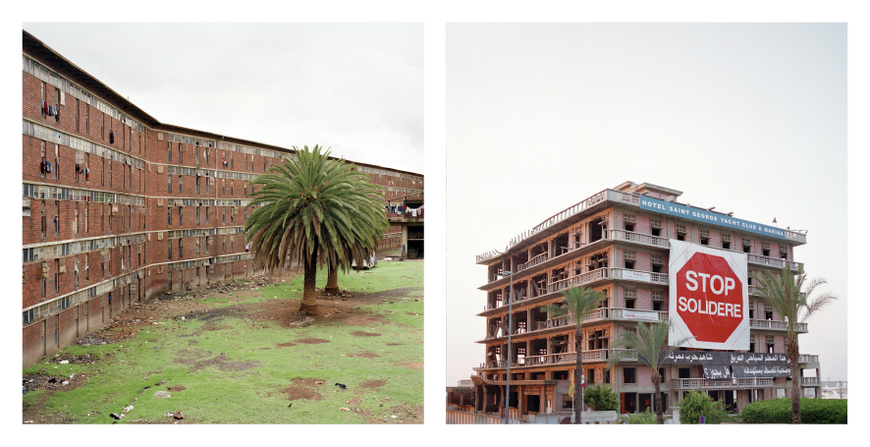 The words "hostel" and "hotel" connects the two pictures of the infamous Beirut Hostel in Alexandra, Johannesburg, and the Beirut Hotel in Lebanon.
"The hostel (in Alexandra) was related to the ANC, and across an open soccer field, there was a hostel belonging to Inkatha Freedom Party, so there was a lot of violence between the two parties, and the name reflected to the civil war in Lebanon," says Josephy.
Josephy finds her inspiration in the people of the communities that she photographs.
"It is about finding those moments that signal the community's feelings to things like inequality and resources, but I am not particularly interested in showing some sort of a bad news story, so that's where the issues surrounding reconciliation and rebuilding also come in. So, I am also interested in showing something like that, because that is inevitably what happens after a war."
The exhibition is organised in conjunction with the Wits City Institute through funding provided to the Institute by the Andrew W. Mellon Foundation. It is co-hosted by the Wits City Institute and the Wits Arts Museum and is on display until 6 March, 2016.